Northwestern faculty awarded grants for summer scholarship
Wednesday, May 8, 2019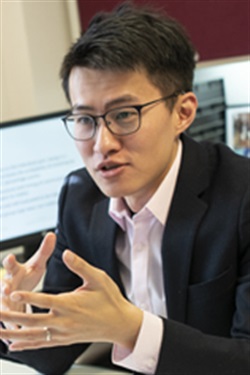 Nine Northwestern College professors will conduct research and pursue further study this summer with funding from the Northwestern College Scholarship Grants program. The awards, ranging from $920 to $4,000, are designed to encourage the production of scholarship work for publication and distribution beyond Northwestern's campus.
Grant winners collaborating with students include physics professor Emily Grace and sociology professor Chris Hausmann.
Grace is using fluorescent measurement to better understand how a signaling protein activates an enzyme involved in the dilation of blood vessels. She will work on developing a more sophisticated method of analyzing the lifetime of the sample's fluorescence signal. Ali Almail, a junior from Bahrain and Canada who is majoring in art and genetics, molecular and cellular biology, will serve as her student research assistant.
Hausmann is using student journals and survey data to contribute to first-year seminar and diversity curriculum used by Christian colleges, as well as to sociological literature regarding how people of faith understand race relations. Elizabeth Ellis, a senior sociology major from Prescott Valley, Ariz., will assist with coding data and other analysis.
Dr. Thomas Holm, professor of music, will travel to Taiwan, where he will work with the Formosa Singers' editors and arranger to prepare multiple Taiwanese choral scores for dissemination in the U.S. Having spent a sabbatical year in Taiwan, Holm is well positioned to help prepare pronunciation guides, cultural context and poetic summaries to make the works suitable for an American market.
Grant money awarded to Dr. Robert Hubbard, professor of theatre, will fund his work on a one-person show about a Christmas Eve service in a dying rural North Dakota church. He plans to present the play in area churches in December, as well as during a Northwestern College chapel. Hubbard will also revisit a paper about solo Shakespeare shows.
Summer research by Dr. Han-Yen Kao, assistant professor of economics, will focus on the economics of the diversity strategies of colleges. He plans to construct a model and collect data to determine the optimal diversity strategy in order for a college to meet its mission and financial goals. Kao serves as a member of Northwestern's Multi-Ethnic Resource Committee.
History professor Dr. Michael Kugler will conduct research in the Special Collections Library of the University of Edinburgh in Scotland. He'll be reading a manuscript by the 18th-century Scottish pastor and author John Bonar to determine if Bonar borrowed any contemporary philosophical principles in arguments for the providence of God.
Another international research project is the subject of work by Dr. Melanie Nyhof, assistant professor of psychology. She will travel to Indonesia and work with local collaborators to study the developing understanding of death and the afterlife among Indonesian children from different religious and cultural traditions. She will also meet with Indonesian researchers to discuss ongoing studies of Indonesian children and adults' understanding of belief disagreements involving religion, facts, opinions and morality.
Finally, two art professors will spend the summer creating new artwork for upcoming exhibitions. Yun Shin will prepare for a solo show at the Susan O. Ahern Gallery in the Thelma Sadoff Center for the Arts in Fond du Lac, Wis. Emily Stokes will add to an ongoing series in preparation for exhibition opportunities. She uses a combination of etching, relief printmaking, screen-printing and painting to create narrative images housed within hand-made wooden boxes. The allegorical spaces in her imagery explore the tension between preserving what is familiar and accommodating the new.