Fitness for everyone. Fitness for life.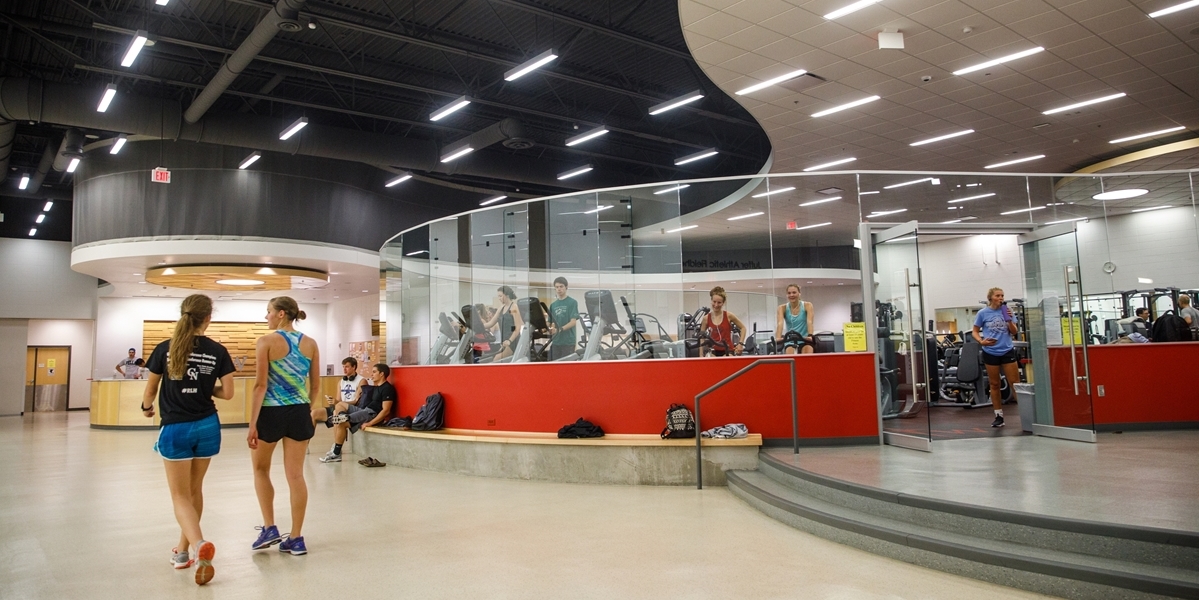 RSC DeWitt Fitness Center Reopening: Details and Information
Summer Hours
Monday-Friday
Saturday
Open to Members Only
The Fitness Center was closed March 13 through May 12. When crediting memberships for our closed time frame, we included the first two weeks of our open days due to the extensive COVID-19 restrictions that were in place. Therefore, all active memberships as of March 13 were credited with 11 weeks or the remaining active days on the membership if it was less than that time frame.
Please note that, as always, members ages 14 and under must have a supervising adult present while in the RSC. Members age 14 and younger who arrive without an adult will not be permitted into the Fitness Center. Day passes will not be sold at this time.
Our goal is to ensure the Fitness Center is a safe and welcoming place for all. We are increasing our cleaning and disinfecting practices, as well as ensuring our staff is healthy. If you choose to visit the Fitness Center, we ask that you do your part to keep the Fitness Center a safe harbor, both physically and mentally, for all who come to work out. Please don't visit the Fitness Center if you are sick or have been in contact with anyone who is sick. We understand opening the Fitness Center is exciting for some, while for others, this may create doubt or concern. While in the Fitness Center, please enjoy the chance to exercise—and as you do so, please refrain from sharing negative thoughts regarding COVID-19 decisions with those with whom you may not agree. We are working hard to create a safe space for wellness and recreation, and we ask for your help in that process. As we continue to evaluate best practices, we welcome your feedback and will make any adjustments that are possible.
Changes to the Fitness Center
The Fitness Center is following guidance provided by local leaders. Current restrictions include: 1) Maintaining physical distancing between members by spacing all equipment at least 6 feet apart; 2) Limiting group activities to a number that allows people to keep a physical distance of 6 feet between participants; 3) Implementing other physical distancing, hygiene and public health measure to reduce the risk of transmission of COVID-19 consistent with guidance issued by the Iowa Department of Health.
The fitness area, the walking track, and the basketball court that has been converted into a free weight area are open and each limited to 15 or fewer members.
Racquetball courts are open for doubles play or use by immediate family members. Court use is limited to 60 minutes or less, and cleaning will take place between each use.
Basketball courts are open for up to 6 members at a time. Use is limited to 60 minutes or less, and members are required to physically distance from others outside of competition.
Locker rooms are open for use, with extra cleaning and disinfecting measures in place.
What to expect when using the Fitness Center
All members will be asked to fill out a short screening form upon their arrival to the Fitness Center. The form will consist of questions related to symptoms and exposure to COVID-19. Members will also be asked to update their photo and contact information in our database to ensure safety measures can be conducted and communicated as efficiently as possible.
Social distancing and hygiene/sanitation measures
Most shared equipment has been moved behind the welcome desk to be checked out for use. This will allow Fitness Center staff to disinfect equipment between users.
The Fitness Center has switched to single-use wipes for cleaning equipment. Members are asked to wipe down equipment before and after each use.
There will be no "working in" on equipment. Members must finish sets and wipe off equipment.
Multiple hand sanitizing stations are set up around the Fitness Center. Members are asked to utilize them regularly.
Ongoing plans for social distancing and sanitizing
The director of the Fitness Center will continue to work with Northwestern's Pandemic Response Team and the President's Cabinet to apply updated guidance from state and local leaders.
---
Join now!
The DeWitt Physical Fitness Center at Northwestern College provides more than 50,000 square feet of facilities and equipment to help you achieve your fitness and recreational goals. Community members in and around Orange City may purchase annual or monthly memberships, as well as day passes. Northwestern students, faculty and staff may use the Fitness Center free of charge.
The DeWitt Physical Fitness Center is accessible from both the Rowenhorst Student Center and the Bultman Center.
DeWitt Physical Fitness Center
208 8th Street SW, Orange City, IA 51041
Fitness Center Welcome Desk
712-707-7230