Micro-credentials
Earn micro-credentials and showcase your skills.  Micro-credentials are small programs that verify a specific skill or competency mastered. Learners meet their personal development goals by gaining knowledge in areas that are relevant to their interests and stand out in their profession. Micro-credentials offer students and working professionals alike a way to grow and add to their resumes with field-specific skills.
Time-saver: Micro-credentials take less time to earn.
They are smaller than a certificate, degree, minor, or major – often completed in a few hours, days, or weeks.
Personalized: Dial in on the skills and learning experiences that are valuable to you – and employers. 
Flexible: You choose:

What you learn – develop soft or hard skills.
How you learn – learn in different methods such as online, hybrid, and face-to-face.
Price to learn – each micro-credential has a unique value so find a price-point that fits you best.
Type of learning – some content is developed for undergraduate, graduate, or professional learners with some types even having continuing education credits connected.
---
What are the benefits of micro-credentials?
Master new skills. Build on your gifts.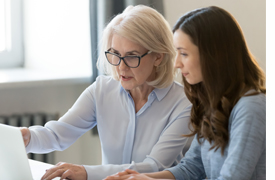 Match workplace needs:  Workplace skills are changing more rapidly than ever before. Micro-credentials meet that demand and offer flexible life-long learning.
Set yourself apart: Hundreds of individuals may have the same degree, but skills learned through micro-credentials can differentiate you both academically and professionally.  
Showcase achievement: After completing a micro-credential, you receive a digital badge – an easy and effective visual to display your achievement. 
---
Display achievements with digital badges
Show the skills employers want.
Micro-credential completers receive a digital badge, an icon that is clickable and verifiable. It showcases their mastery of a skill or knowledge in an area of interest to the world.
Badges can be displayed on social media sites, such as LinkedIn, added as a link on resumes, or embedded in e-portfolios and email signatures for visible recognition. 
---
How it works
Find your micro-credential

Browse our offerings for a skill you would like to master and be sure to check back often to see new offerings.

Enroll and complete requirements 

To enroll, complete the online registration including payment on the individual micro-credential page. Then complete all the requirements to earn your micro-credential. 

Accept your digital badge 

After you complete all of the course content, you will be awarded a digital badge through Credly (our platform used for verifying, issuing and tracking digital badges).

Show off your digital badge!

Digital badges are credentials that you own so you can decide how you want to share them. You will be notified via e-mail that your badge is available. To immediately share your badge, click on "Accept your Badge" within that email. Create an account with Credly to track all your digital badges. Once logged in, you can click the "share" button and select the social media platform(s) of your choice and at any time. Digital badges can be shared on social media, e-mail, links, embedded code, downloaded, or printed as a certificate
---