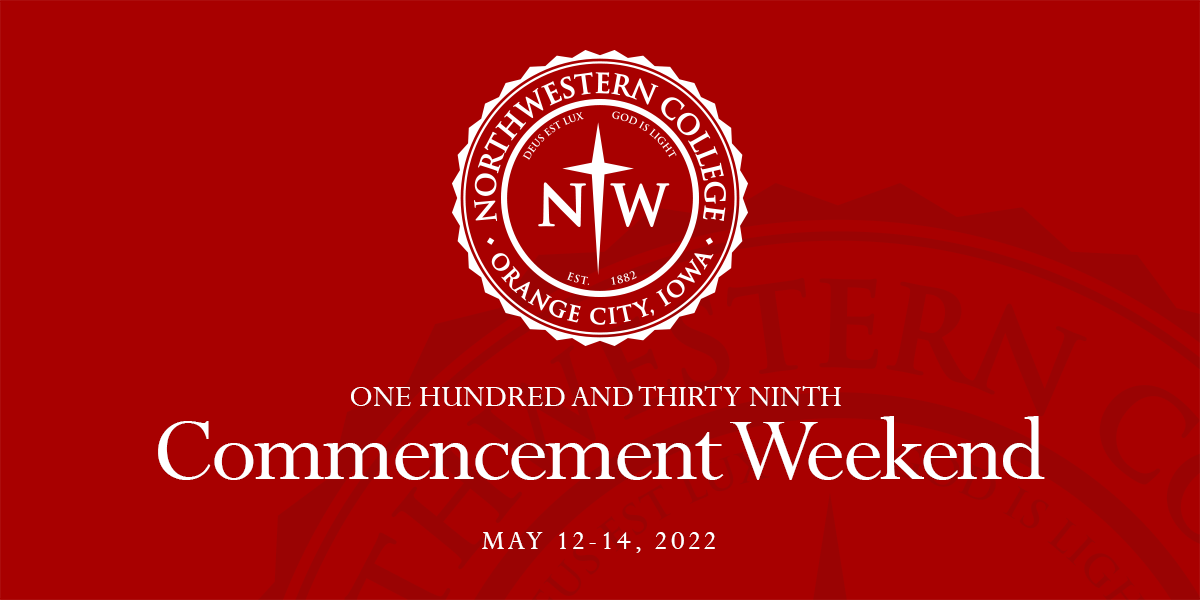 Northwestern will host Graduation Weekend ceremonies May 12–14 in person and indoors. We are eager to celebrate the accomplishments of our students and their families and supporters.
For further details about travel and logistics, as well as a graduation application, please see the links below. Northwestern will continue to monitor public health recommendations related to COVID-19 and adjust guidelines as needed. The majority of events will be livestreamed, so those who cannot attend in person will still be able to participate.
Commencement ceremonies for students in Northwestern's Master of Science in Physician Assistant Studies (MSPAS) program will be held on Thursday, Aug. 11.
SCHEDULE OF EVENTS
THURSDAY, MAY 12
NURSING PINNING CEREMONY
6:30 p.m., Christ Chapel (Doors open at 6 p.m.)
Northwestern's nursing graduates and their families are invited to a traditional rite of passage that serves as a symbolic welcoming of the students into the nursing profession. Each student nurse is presented with a Northwestern College nursing pin, after which the graduates recite the college's "Christian Commitment to Nursing" pledge. A reception for the graduates and all guests follows the ceremony.
Watch livestream

---

FRIDAY, MAY 13
SENIOR HONORS CEREMONY
3 p.m., DeWitt Theatre Arts Center (Doors open at 2:30 p.m.)
Northwestern's Senior Honors Ceremony is designed to celebrate students who have been selected for departmental honors and/or who have successfully completed the Northwestern Honors Program. Students who will be honored at this ceremony will be notified in April. Family members of these seniors are invited as well.

BACCALAUREATE
7:30 p.m., Christ Chapel (Doors open at 6:45 p.m.)
Northwestern's on-campus graduating seniors and their families are invited to baccalaureate, a worship celebration during which the students say their final goodbye to their college worship home. The service includes stories, images, a commissioning message and songs—and concludes with a special blessing and moving candle-lighting ceremony.
Watch livestream

---

SATURDAY, MAY 14
SENIOR BREAKFAST
7:30 to 9 a.m., DeWitt Center Cafeteria
On-campus graduating seniors and their family members are invited to have breakfast with President Greg and Michelle Christy prior to commencement. This is a come-and-go breakfast, free of charge, with no R.S.V.P. required.

COMMENCEMENT
10 a.m., Rowenhorst Student Center (Doors open at 9:15 a.m.)
Commencement is a celebration of the academic accomplishments of Northwestern's graduates. The traditional ceremony of pomp and circumstance features faculty in full regalia, inspirational words from this year's commencement speaker, and the presentation of top undergraduate student and faculty awards—culminating in the hooding of Northwestern's Master of Education students and the conferring of degrees upon all graduates.
Watch livestream

---

THURSDAY, AUGUST 11
PHYSICIAN ASSISTANT COMMENCEMENT
Time and location to be announced
Northwestern will award graduate degrees to the first students to complete the college's new Master of Science in Physician Assistant Studies (MSPAS) program. More information for graduating students and their families will be available later this spring.
Watch livestream
Additional Information