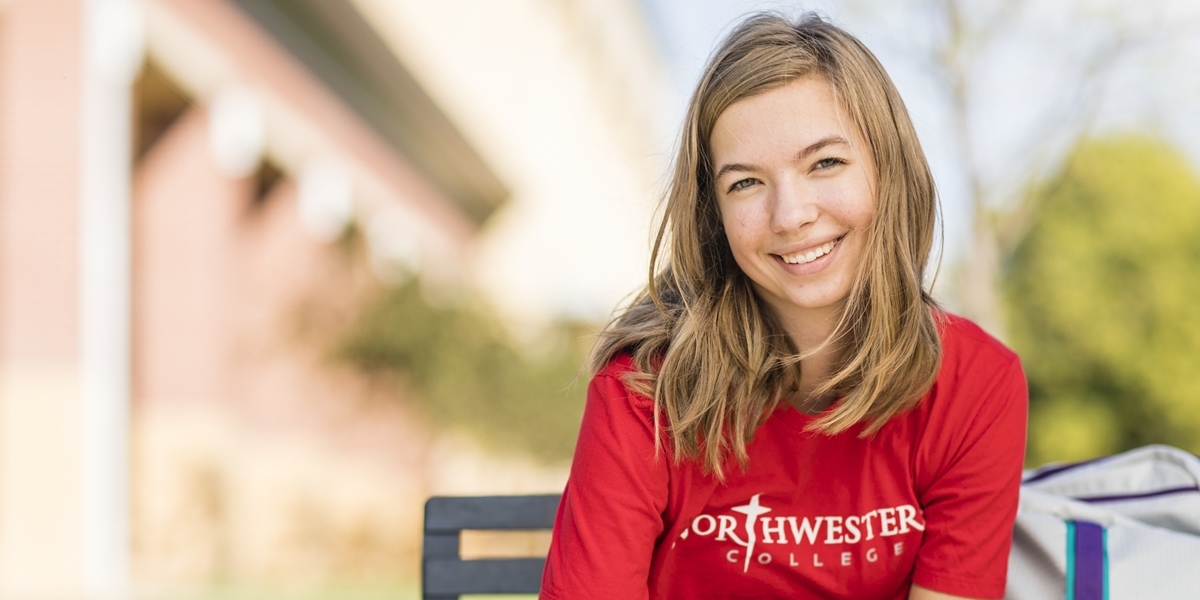 Scholarships
You've worked hard in high school. Find out what your Northwestern College scholarship payoff will be. Enter your cumulative high school GPA—and your test scores if you have them—and we'll provide an estimate for the 4-year academic scholarship amount you'll receive when you apply, get accepted and enroll.This estimate is not meant to represent your entire Northwestern financial aid package. Additional financial aid is available and is based on individual factors like family income (as detailed on your FAFSA) as well as participation in varsity athletics or the fine arts.
*Northwestern College is test-optional, so if your ACT or SAT score doesn't improve your scholarship potential, your scholarship will be based on your GPA only.
Estimate your scholarship
Enter your GPA and test score in the boxes above to learn which scholarship you qualify for.
$18,000 per year | Peale Scholarship
Renewable if you maintain a 2.75 cumulative GPA after your freshman year and a 3.0 cumulative GPA thereafter. National Merit Scholarship finalists are awarded the Peale Scholarship and an additional $2,000 annually. An ACT or SAT score (or CLT equivalent) is required for Peale Scholarship eligibility.
$14,000 or $16,000 per year | Presidential Scholarship
Renewable if you maintain a 2.75 cumulative GPA after your freshman year and a 3.0 cumulative GPA thereafter. An ACT or SAT score (or CLT equivalent) is required for Peale Scholarship eligibility.
$12,000 to $13,000 per year | Collegiate Scholarship
Renewable if you maintain a 2.75 cumulative GPA.
$8,000 to $11,800 per year | Academic Achievement Award
Renewable if you maintain a 2.50 cumulative GPA.
To receive the academic scholarship you are eligible for, you must apply, be admitted and enroll at Northwestern College. Applying is easy and free. Apply online and contact us if you have any questions or if you would like us to send you more information.
If you're transferring to Northwestern, your academic scholarship award will be based on your college GPA. The award is renewable yearly if you maintain the specified cumulative GPA.
| | |
| --- | --- |
| 3.8 to 4.0 GPA  | $14,000/year Presidential Scholarship (renewable if you maintain a 3.0 cumulative GPA)  |
| 3.4 to 3.79 | $12,000/year Collegiate Scholarship (renewable if you maintain a 3.0 cumulative GPA) |
| 3.0 to 3.39 | $10,000/year Academic Achievement Scholarship (renewable if you maintain a 2.5 cumulative GPA) |
Online degree-completion programs
You might be eligible for scholarship money if you're a traditional undergraduate student and intend to participate in these co-curricular areas: athletics, music, theatre and worship arts.
Scholarships of $2,500 are available to students from historically underrepresented populations who are accepted into Northwestern's Bridge Scholars program. To be eligible for the Bridge Scholars program, you must:
Be a member of a historically underrepresented population living in the U.S.
Have a high school GPA of at least 2.5 and an ACT score of at least 21 (or an SAT score of at least 1060)
Demonstrate academic and leadership potential as well as the desire and commitment to develop further as a learner and leader while in college.
The $2,500 scholarship is awarded annually to Bridge Scholars who maintain a college GPA of at least 2.5 and meet program participation requirements.
Apply by March 31
To apply for the Bridge Scholars program and the $2,500 scholarship:
Complete the brief application form.
Write a 1-page reflection on what Northwestern's Vision for Diversity means to you.
Submit 1 to 3 letters of recommendation from a teacher, member of the clergy, or community leader that describe your academic performance and potential, leadership potential and spiritual maturity.
Your response and recommendation letter(s) should be sent to:
Rahn Franklin
Director of Multicultural Student Development
Northwestern College
101 7th St. SW
Orange City, IA 51041
rahn.franklin@nwciowa.edu
While the majority of Northwestern College scholarships are awarded by matching students with the scholarships for which they best meet the criteria, a few require separate applications. Applicants for the following scholarships must be incoming full-time freshmen.
Luke Scholarship
Strong evidence of Christian faith and character in school, church and/or community
Top 5% of high school class or with a minimum GPA of 3.8
Minimum ACT composite score of 28 (or comparable SAT score)
Intent to enter one of the following health science professions after graduating from Northwestern: physician (M.D. or D.O.), physician's assistant, optometry, dentistry, podiatric medicine, or physical therapy
Preference given to applicants who are pre-medicine students
James L. Franken Servant Leadership Scholarships
Outstanding leadership abilities and a desire to grow in those abilities while a student at Northwestern
Minimum 3.0 high school GPA and an ACT score (or SAT equivalent) of 21 or above
Letter of recommendation from high school teacher
One-page essay reflecting on one of the core values of Jim Franken and the Interstates Companies for which he worked: servant-leadership, dependability, integrity, trust, quality or family
The application deadline is January 13. Email your application, teacher recommendation and essay to Kendall Stanislav, director of experiential education at Northwestern College.
If you are chosen to receive a Franken Servant Leadership Scholarship, you will enroll in the 4-credit Transformational Leadership course, offered by Northwestern's Franken Leadership Center. (Transformational Leadership fulfills one of the college's Integrated General Education, or IGE, requirements.)
Vogel Paint Scholarship
A $1,500 annual scholarship is available to a Vogel Paint or Iowa State Bank employee or dependent
Financial need is considered but not a requirement for this scholarship
Applicants must demonstrate the ability to achieve their academic goals and exhibit evidence of a sincere Christian faith and character
Selection will be made by the financial aid office (students receiving the scholarship must re-apply each year with other applicants)
Send a brief letter or email addressing the above qualifications by Jan. 13 to the Northwestern College Director of Financial Aid, 101 7th Street SW, Orange City, IA, 51041.
Veterans or students active in the armed forces are eligible for Northwestern's De Beer Legacy Veteran's Scholarship, which ranges from $2,500 to $10,000 per year. Contact the registrar's office to learn more about your GI Bill benefits at Northwestern.
Contact
Austin Nyhof
Associate Registrar
712-707-7145
Additional scholarship opportunities may be available through your high school, church, or local businesses or service clubs. Or these websites may be helpful:
The Iowa Association for the Education of Young Children offers scholarships for those interested in teaching: