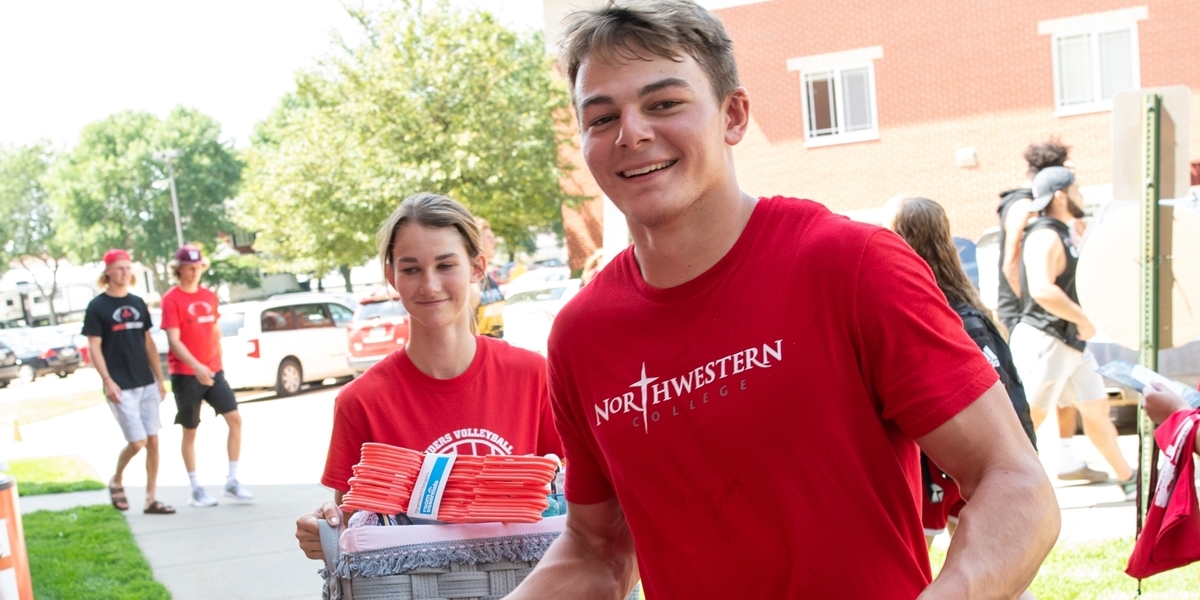 As a transfer student, you'll find your previous hard work recognized and appreciated by NWC. You'll also discover a welcoming community that's committed to making your transition as smooth as possible, whether you're graduating from a community college or just want to find a college that's a better fit. 
Our commitment includes generous financial aid for transfer students—as much as $15,000 per year in academic scholarships, depending on your college GPA.
Transfer student scholarships
(for students enrolled in Northwestern's on-campus undergraduate programs)
| | |
| --- | --- |
| 3.8 to 4.0 GPA  | $15,000/year Presidential Scholarship (renewable if you maintain a 3.0 cumulative GPA)  |
| 3.4 to 3.79 GPA | $12,500/year Collegiate Scholarship (renewable if you maintain a 2.75 cumulative GPA) |
| 3.0 to 3.39 GPA | $10,000/year Academic Achievement Scholarship (renewable if you maintain a 2.5 cumulative GPA) |
| 2.5 to 2.99 GPA | $7,500/year Academic Achievement Scholarship (renewable if you maintain a 2.5 cumulative GPA) |
Associate′s degree policy
If you're a community college graduate with one of the associate's degrees listed below, you automatically meet all of the Northwestern Core (or general education) requirements, with the exception of one Christian Story course and one Senior Seminar course. So instead of worrying about losing credits you've worked hard to earn, you can start right in on the requirements for your major. That seamless transfer of courses means you'll be on your way toward earning your bachelor's degree—and achieving your educational and career goals—faster and more efficiently.
The associate's degree policy applies to transfer students with an Associate of Arts (A.A.), Associate of Science (A.S.) or Associate Degree in Nursing (ADN) from a regionally accredited college or university.
If you've taken a religion course equivalent to Northwestern's Christian Story course, then that requirement is met as well.
While we'll consider your Northwestern Core requirements complete if you have an associate's degree, we will transfer in only 100-level or above courses for which you have earned a grade of C or higher. All students are required to have a minimum of 124 earned credits in order to graduate.
Your final 30 credits need to be completed at NWC in order to receive a Northwestern College diploma.
Online degree-completion programs
In addition to our traditional on-campus academic programs, Northwestern offers two online programs specifically designed for students with an associate's degree:
The RN-to-BSN program was created for registered nurses who need a Bachelor of Science in Nursing degree to advance in their careers.
The Early Childhood B.A. degree prepares graduates for early childhood education roles, including paraprofessional and lead teacher positions.
Learn more
For more information about transferring to Northwestern College, contact:
To apply: