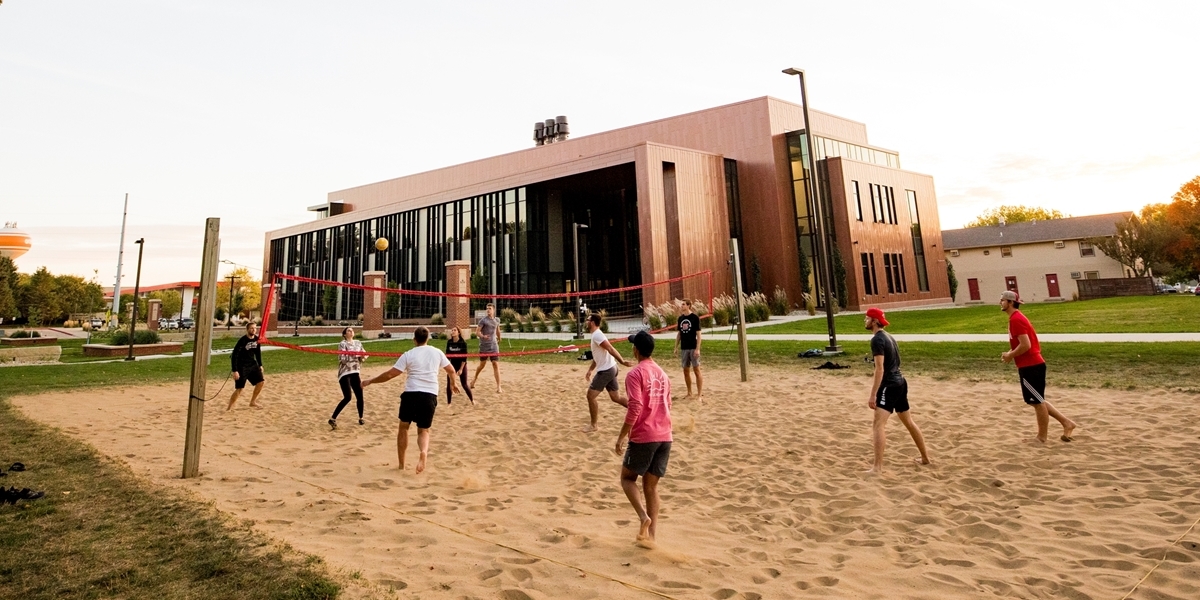 Sports and fitness
For students who like to compete or stay in shape, Northwestern's campus and the Orange City community offer a lot of options. There are pick-up basketball and soccer games on campus throughout the week, and students make heavy use of the indoor track, weight room and fitness facilities in the DeWitt Physical Fitness Center. About one-fourth of our students participate in intramurals, and approximately half belong to an intercollegiate athletic team. Orange City also has several fitness centers, a walking trail, an outdoor pool and an 18-hole golf course.
Northwestern students have free access to the college's DeWitt Physical Fitness Center, which includes a fitness area equipped with Matrix cardio and resistance machines, free weights and other fitness gear, as well as a four-court gymnasium with indoor track. There are also three racquetball courts, locker rooms, and a game zone with pool, ping pong and foosball.
Intramurals are a great way to get some exercise, take a break from studying, and deepen friendships. They're also a chance to showcase your creativity with team names like the Setting Ducks and Volley Llamas. Many leagues field men's, women's and co-ed teams. Best of all, league winners get intramural champion T-shirts.
No matter how competitive or athletic you may be, there's an option for you:
8-ball and 9-ball
Basketball (3-on-3 and 5-on-5)
Chess
Flag football
Foosball
Golf
Kickball
Pickleball
Ping pong
Pool (8 ball)
Racquetball (singles and doubles)
Slow-pitch softball
Soccer (indoor)
Spikeball
Tennis (singles and doubles)
Ultimate Frisbee
Volleyball (indoor and sand)
Yard games
Wallyball
Whether you're a competitor or spectator, Red Raider sports offer some of the best action in the area. Northwestern belongs to the Great Plains Athletic Conference (GPAC), one of the NAIA's most competitive leagues. We win—a lot. The Bultman Center is decked out with numerous competition and sportsmanship trophies and national championship banners. In fact, Raider teams have claimed 8 national titles since 2001.
Northwestern fields 9 men's and 9 women's varsity teams and 2 combined sports:
| Men's | Women's | Combined |
| --- | --- | --- |
| Baseball | Basketball | Cheerleading |
| Basketball | Cross country | Esports |
| Cross country | Dance |   |
| Football | Golf |   |
| Golf | Soccer |   |
| Soccer | Softball |   |
| Tennis | Tennis |   |
| Track & field | Track & field |   |
| Wrestling |  Volleyball |   |