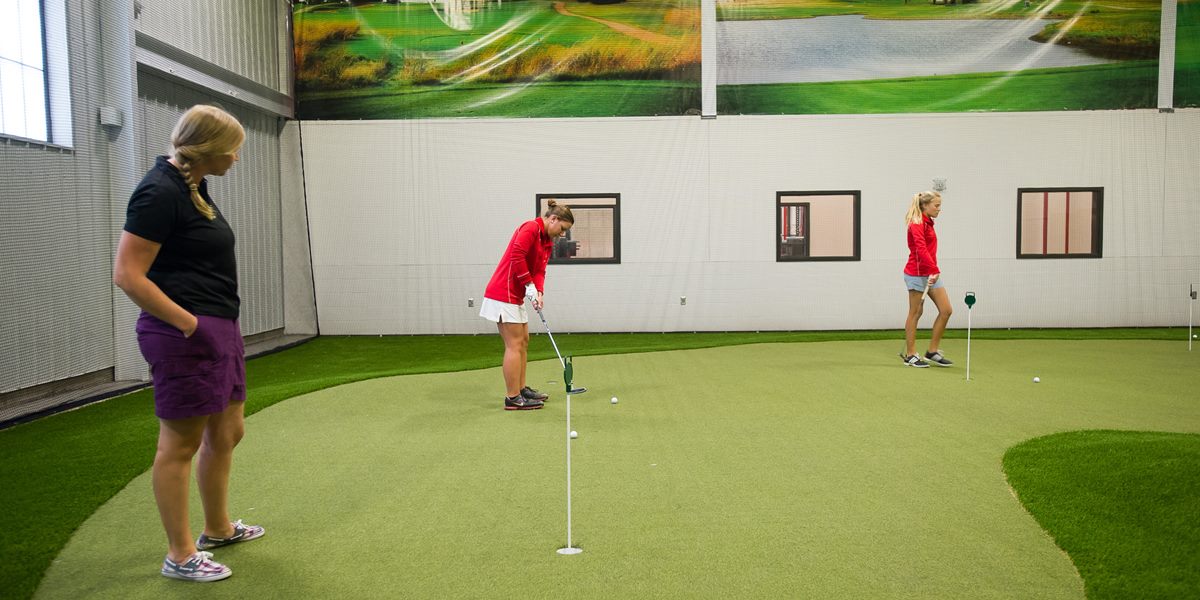 Van Der Weide Golf Practice Room
Available for a separate cost, the Van Der Weide Golf Practice Room—located in the Juffer Athletic Fieldhouse—is the perfect place to stay on your game during the winter or to work on fine-tuning your swing using a state-of-the-art golf simulator. You'll enjoy 3,600 square feet of practice and recreation space that include:
A multiple-hole, undulating practice putting green
A straight-line putting green
4 hitting stations
1 golf simulator
Golf simulator
Whether you're looking to work on your swing or play a round with friends, the golf simulator is equipped for your needs:
Choose from 11 championship-style golf courses.
Practice on a driving range with instant feedback.
Explore the competition model with various golf games and challenges.
Juffer Athletic Fieldhouse Hours
The Juffer Athletic Fieldhouse is closed during the summer. Hours vary during college breaks and athletic seasons. See Facebook.com/jufferfieldhouse.
Costs
Reserve your tee time by calling 712-707-7400 when the Juffer Athletic Fieldhouse is open. Walk-ins are welcome on a first-come, first-served basis, but those with reservations will be given priority. Payment for an individual tee time or the more convenient—and cost-efficient—punch pass can be made at the Juffer Fieldhouse Welcome Desk.
Per-use cost
DeWitt Physical Fitness Center member:


$10 for the first 30 minutes




$5 for each additional 30 minutes

Non-Fitness Center member:


$15 for the first 30 minutes




$5 for each additional 30 minutes
Punch passes (20 half-hour sessions)
Fitness Center member: $120
Non-Fitness Center member: $150
Rent the Golf Practice Room
The Van Der Weide Golf Practice Room is available for your next party, reunion or company gathering. Treat your guests to an exceptionally unique experience in this state-of-the-art space. For prices and availability, contact:
Aaron Aberson, coordinator
712-707-7139
aarona@nwciowa.edu
Van Der Weide Golf Practice Room
Juffer Athletic Fieldhouse
306 8th Street SW, Orange City, IA  51041
712-707-7400