Barker publishes second book about missionary nurse
Thursday, November 7, 2019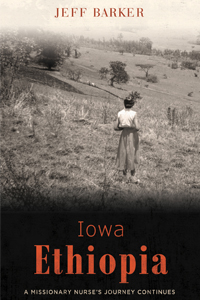 Sioux Center resident Arlene Schuiteman, a 95-year-old former missionary nurse, and Jeff Barker, Northwestern College theatre professor, have collaborated to produce the second volume in a series about Schuiteman's life: "Iowa Ethiopia."
Starting where Barker's first book about Schuiteman, "Sioux Center Sudan," ended, the sequel follows Schuiteman from 1966 to 1977 as she helped open a "dresser school" in the city of Mettu, teaching wound care and other medical skills to Ethiopian health care workers.
During those years, Schuiteman also witnessed a spiritual revival that swept through Ethiopia—a revival that touched her personally and resulted in surprising gifts of the Holy Spirit in her own life.
"Iowa Ethiopia" is available on bookseller websites such as Amazon.com and Christianbook.com, as well as on the publisher's website, Hendrickson.com.
A play version of the book will be performed by the Northwestern College Drama Ministries Ensemble on Sunday, Nov. 17, at 5:30 p.m. at First Reformed Church in Orange City.