Musical "Next to Normal" on stage at Northwestern
Thursday, January 25, 2018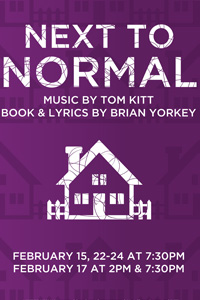 The musical "Next to Normal" will be presented by Northwestern College theatre Feb. 15 and 22–24 at 7:30 p.m. and Feb. 17 at 2 and 7:30 p.m. The Pulitzer Prize and Tony Award-winning show will be performed in the England Theatre of the DeWitt Theatre Arts Center.
The rock musical deals with grief, depression and other mental illness. The performance on Thursday, Feb. 22, will be followed by a panel discussion with members of Northwestern's psychology and social work departments as well as a mental health counselor from the college's wellness center.
"Next to Normal," with music by Tom Kitt and lyrics by Brian Yorkey, focuses on the lives and relationships of the Goodman family. Diana Goodman has bipolar disorder, and her worsening condition and self-destructive behavior is affecting her family and their stability and mental health.
Director Robert Hubbard chose the play in part because of the powerful impact it had on him when he first saw it. "I saw 'Next to Normal' on Broadway in 2009 and loved it. It's a very serious subject, but—perhaps because of the wonderful rock music score—the show is also full of humor and joy. It's truly a remarkable piece of theatre with powerful themes of redemption and hope."
Just nine musicals have won the Pulitzer Prize for drama (the most recent being "Hamilton"); "Next to Normal" won in 2010. The show also won three Tony Awards, including the award for best score.
Tickets for "Next to Normal" are $8 for adults and $4 for students and are available starting Feb. 5 for Theatre Patrons and Feb. 6–24 for the general public.
Tickets can be reserved at www.nwciowa.edu/tickets or by visiting the DeWitt Theatre box office between 5 and 8 p.m. Monday through Friday or between 1 and 4 p.m. on Saturday. The box office can also be reached by phone, 712-707-7098, or e-mail, boxoffice@nwciowa.edu.