Northwestern profs awarded grants for summer scholarship
Thursday, May 4, 2017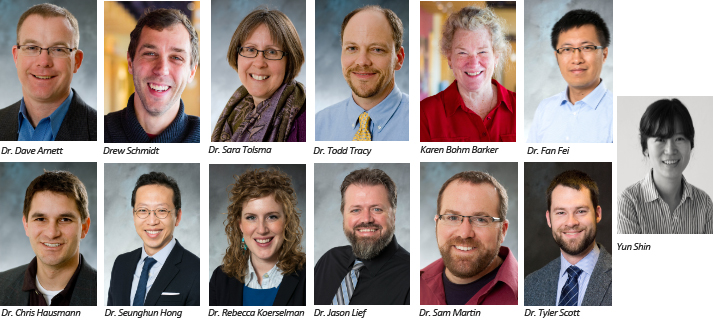 Thirteen Northwestern College professors will conduct research and pursue further study this summer with funding from the Northwestern College Scholarship Grants program.
Nine will receive grants of up to $2,250 for their projects; four will receive $5,000 each for collaborative research with students. The money is designed to encourage the production of scholarship work for publication and distribution beyond Northwestern's campus.
Grant winners collaborating with students include chemistry professor Dr. David Arnett; theatre professor Drew Schmidt; and biology professors Dr. Sara Tolsma and Dr. Todd Tracy.
Arnett will continue his research that uses fluorescent measurement to better understand how a signaling protein activates an enzyme involved in the dilation of blood vessels. Alexandria Yoerger, a junior biology-health professions and chemistry major from Hinton, Iowa, will serve as Arnett's student research assistant for the second consecutive summer.
Caroline Trewet, a senior theatre major from Atlantic, Iowa, will work with Schmidt in his role as media director for this summer's Rocky Mountain High, a youth conference presented by the Reformed Church in America. In addition to leading a team of volunteers during the actual event, Schmidt plans to produce some after-conference "how to" videos to help others doing similar work for their churches, youth groups and schools.
Tolsma has been working to identify the best preservative solutions for insect field samples and studying the ability of plant extracts to inhibit the growth of human tumor cells growing in culture. She will use her grant to write primary research articles that will communicate the results of these studies for submission to scientific journals, as well as to hire a student assistant to help with any additional research that is required.
Tracy will continue his research into the impact invasive European buckthorn and red cedar have on local forests and grassland ecosystems. He will work with David Rowley, a junior biology-ecological science major from Las Vegas, and Brenden Van Der Werff, a junior biology-health professions major from Armour, S.D.
Karen Barker, another member of the college's theatre department, received grant money to support a solo show. She will perform "Early One Morning," a musical based on Mary Magdalene's story, in churches in Seattle, Oak Harbor and Lynden, Wash., this summer.
Dr. Fan Fei, business, will continue his research of the development of the highway system between World War I and II and the highway's impact on retail trade—particularly the general store.
Dr. Chris Hausmann, sociology, will prepare a paper and presentation on an encounter-based approach to Christian scholarship, while Dr. Seunghun Hong, mathematics, will work on a method of calculating the volume of quantum states related by symmetries using techniques in Lie theory.
History professor Dr. Rebecca Koerselman will research how evangelical summer camps in the post-World War II era helped shape perceptions about gender roles and identity. Dr. Jason Lief, religion, will spend the summer working on a paper about youth ministry, popular culture and identity. He will also begin co-writing a book with Dr. Sara Tolsma on the topic of youth ministry, incarnation and evolution.
English professor Dr. Sam Martin will likewise spend his summer writing. He is finishing a short story for submission to Canada's Mitchell Prize for new religious writing and is working on a series of crime novels, including the recently completed "Burn It Up."
Dr. Tyler Scott, physics, will research the similarities and differences between the attitudes and motivations of physics and engineering students. His mixed-methods study will incorporate interviews and surveys of students at six Midwestern colleges.
Finally, art professor Yun Shin will use her grant to fund the creation of new artwork for exhibits scheduled in the fall of 2017.