Drew Schmidt '05 Associate Professor of Theatre; Coordinator of Worship Arts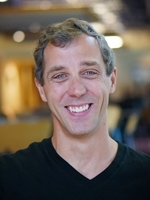 Education:
M.F.A., Illinois State University
B.A., Northwestern College
712-707-7094
drew.schmidt@nwciowa.edu
TAC 107
Drew Schmidt is a lighting, sound and projection designer who has designed more than 40 shows at Northwestern, as well as productions for the Minnesota Fringe Festival, the Orange City Tulip Festival Night Show, and local dance studios. In addition, he has directed Northwestern productions, including Junie B Jones Is Not a Crook and The Curious Incident of the Dog in the Nighttime. Schmidt regularly hosts design workshops at the Kennedy Center American College Theater Festival.
With 20 years of experience leading worship, Schmidt helps run Northwestern's interdisciplinary worship arts major. As part of his love for the church, he also volunteers as the head of the media team for Rocky Mountain High, a youth conference of the Reformed Church in America that attracts more than 3,000 high school students and youth leaders.
On the side, Schmidt acts as a web, media and graphic designer for Hermosa Cove, a resort in Ocho Rio, Jamaica. He also created The Nerdy Professor website, which provides easy-to-use video tutorials for the church and theatre and is used by technicians and designers across the country and around the world.
Schmidt earned a Master of Fine Arts degree in lighting and sound design from Illinois State University after graduating from Northwestern with majors in both theatre and computer science.
COM202 - Video Production
This course introduces students to some of the basic equipment, aesthetic techniques and procedures used in creating short videos. Students will practice these skills through a series of projects, assessing how the techniques could be applied to their unique areas of study. (2 credits)
NWC101 - First-Year Seminar
(4 credits) This course introduces students to the character and abilities considered essential to becoming a member of a Christian liberal arts community. Students develop their reading, writing and speaking skills by exploring difficult questions, learning to understand academic inquiry, forming learning communities, and integrating faith with learning and living.
THE100 - Theatre Production Ensemble
This course is designed to provide students with practical experience in the many facets of theatre production. Course members audition and interview for performance and production staff positions.(1/2 credit)
THE465 - Selected Topics in Theatre and Speech
This course will focus on various issues of theatre and speech that are not covered in current course offerings. Possible topics might include: auditioning, stage management, musical theatre, contemporary theatre since 1967, specific genres (comedy, tragedy, theatre of the absurd, Greek, etc.), theatre as social criticism, ethnic theatre, theatre as historical documentary.(2-4 credits, alternate years, consult department)
WOR350 - Worship Technology
This course will equip church leaders to gracefully and effectively communicate with the people who operate technology in corporate worship. Students will cover the equipment, tools, and methods used in many churches always asking how each element serves the body of Christ. (4 credits)
WOR405 - Practicum in Worship Arts
Each worship arts student will be placed in relationship with a church or parachurch ministry to gain hands on experience in worship arts. Note: graded on a pass/no pass basis. Prerequisite: must be taken during last three semesters prior to graduation or by permission of instructor. (2 credits)
Assistant Designer and Master Electrician, Illinois Shakespeare Festival, 2007-09
Lighting Shop Supervisor, Illinois State University, 2006-09