Northwestern faculty awarded grants for summer scholarship
Thursday, May 5, 2016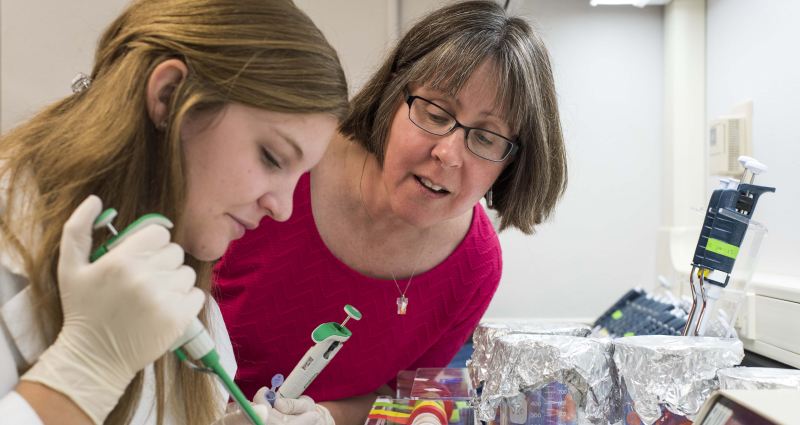 Dr. Sara Tolsma, biology professor, and junior Alison Schutt will collaborate on summer research with funding from the Northwestern College Scholarship Grants program.
Eleven Northwestern College professors will conduct research and pursue further study this summer with funding from the Northwestern College Scholarship Grants program.
Eight will receive grants of up to $2,250 for their projects; three will be given up to $5,000 for collaborative research with students. The money is designed to encourage the production of scholarly work for publication and distribution beyond Northwestern's campus.
Grant winners collaborating with students include Dr. David Arnett, chemistry; Dr. Sara Tolsma, biology; and April Hubbard, theatre.
Arnett will continue his research that uses fluorescent measurement to better understand how a signaling protein activates an enzyme involved in the dilation of blood vessels. Alexandria Yoerger, a sophomore biology-health professions and chemistry major from Hinton, Iowa, will assist him.
Alison Schutt, a junior biology health professions major from Alton, Iowa, will serve for a second summer as the student research assistant for Tolsma, who is studying the genetic relationships between mayfly populations on Santa Cruz Island and the California mainland.
Hubbard spent last summer adapting Shakespeare's "Macbeth" into a two-person script. This summer she will perform it with theatre department colleague Robert Hubbard, who was also awarded a Northwestern Scholarship Grant, at a regional fringe festival. Rowan Sullivan, a graduating senior theatre major from Long Beach, Calif., will provide the sound design for the show.
Karen Barker, another member of the college's theatre department, received grant money to support a solo show. She will perform "Early One Morning," a one-woman musical based on Mary Magdalene's story, in churches throughout the country this summer.
Dr. Chris Hausmann, sociology, will continue a research project that integrates insights from studies of social privilege and experiential learning in order to propose new strategies for civic learning; Dr. Seunghun Hong, mathematics, will study how Weyl's law extends into the realm of quantum geometry.
English professor Dr. Michael Kensak will spend the summer researching how terms used to discuss cultural differences and cultural relativism took on their modern meaning in the generations between Geoffrey Chaucer and William Shakespeare.
Dr. Michael Kugler, history, will visit the National Library of Scotland in Edinburgh to continue his research on a book he is writing about Adam Ferguson, a Presbyterian minister in Scotland during the early Enlightenment period.
And, finally, art professors Yun Shin and Emily Stokes will use their grants to create new artwork for future exhibitions and art competitions.