Koene honored for teaching excellence
Saturday, May 12, 2018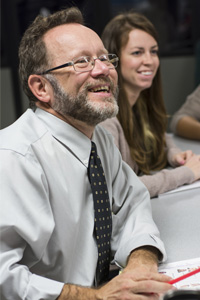 Piet Koene, associate professor of Spanish, translation and interpretation at Northwestern College, has been named the 2018 recipient of the Northwestern Teaching Excellence Award. He was honored during the college's commencement ceremony on May 12.
The award is administered by a selection committee made up of members of the Student Government Association along with past award winners and a representative of the Faculty Development Committee. The committee chose Vonda Post, professor of business and economics; Donna Van Peursem, assistant professor of social work; and Dr. Wayne Westenberg, associate professor of mathematics education, as finalists along with Koene.
The major factor used in selected the award winner is evidence of strong teaching ability. The committee looks at faculty vitae, service reports and course evaluations in addition to the comments of nominators.
Koene, who becomes the first Northwestern professor to win the Teaching Excellence Award and the Faculty Inspirational Service Award in the same year, has been at Northwestern since 2000. He also received the teaching award in 2003 and was named the Iowa Professor of the Year in 2004.
Suresh Portillo, a sophomore translation and interpretation major from Richmond, Calif., described Koene in a nomination letter as extremely dedicated to his work. "He is devoted to the call God has placed in his life, and he reflects that in each of his classes. He makes sure every one of his students is on track and knows what is going on with the material. Not only is he interested in each student's academic standing but he also shows interest in what is happening in [their] lives, ranging from activities on the weekends to plans for the future."
Ellen Podhajsky, a senior Spanish major from Marshalltown, Iowa, said she realized while studying in Spain this spring how much she has benefited from Koene's Spanish classes. "I have learned an incredible amount from him. His classes are always well thought out."
Koene founded Northwestern's translation and interpretation major and set up its simultaneous interpretation laboratory. A state-certified court interpreter for Iowa and Minnesota as well as a nationally certified medical interpreter, he earned a master's degree in interpretation and translation from Monterey Institute for International Studies and a master's degree in Latin American history from the University of Toronto. He has led spring service and summer study trips to Honduras and Mexico.