Vonda Post '88 Professor of Business and Economics; Department Co-Chair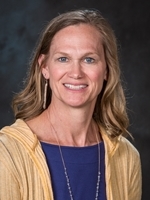 Education:
M.P.A., University of South Dakota
B.A., Northwestern College (Iowa)
CPA (Certified Public Accountant)
712-707-7014
vonda@nwciowa.edu
VPH 300
A licensed CPA, Professor Post earned a master's degree in professional accounting. She has experience in both public and private accounting, including serving as Northwestern's comptroller, and teaches upper-level and introductory accounting classes. She has co-led a summer study abroad trip to the Czech Republic.
ACC216 - Principles of Managerial Accounting
(3 credits) This course covers the basic concepts, principles and practice in managerial accounting, including the use of accounting in management decision- making. Prerequisite: ACC215.
ACC310 - Non-Profit and Governmental Accounting
(2 credits) This course provides coverage of accounting and reporting standards for not-for-profit organizations and state and local governments. It includes accounting for hospitals, college and universities, voluntary health and welfare organizations, and others. Coverage will also be provided for governmental, propriety and fiduciary type funds used in governments. Prerequisites: ACC215 and ACC216 or permission of instructor.
ACC315 - Intermediate Accounting I
(4 credits) This course is a study of the development of accounting principles and practices as they apply to financial statements. Emphasis is placed on the development of the theory used in accounting practice. Prerequisites: ACC215 and 216.
ACC316 - Intermediate Accounting II
(4 credits) This course is a continuation of the accounting principles and practices covered in Intermediate Accounting I. Special emphasis is on stockholder's equity and dilutive securities, special issues related to income measurement, and preparation and analysis of financial statements. Prerequisite: ACC315.
ACC415 - Auditing
This course studies the internal control procedures in modern business, the development of auditing standards and procedures, the theory behind the development of such auditing standards and procedures, and how these auditing standards and procedures are applied to the public accountancy field. Special emphasis is on the auditor's decision-making process. Prerequisites: ACC315 and 316, or permission of chair of the business department. (4 credits; alternate years, consult department)
ACC418 - Advanced Accounting
This course is a study of accounting for partnerships, business combinations, affiliated companies, government entities and nonprofit organizations. Prerequisites: ACC315 and 316, or permission of chair of the business department. (4 credits; alternate years, consult department)
ACC420 - CPA Review
This course will be a comprehensive review of material for the CPA exam, using a computerized review package. Prerequisites: ACC415 and 418, or permission of the instructor. (1 credit)
American Accounting Association