Northwestern faculty awarded grants for summer scholarship
Monday, May 7, 2018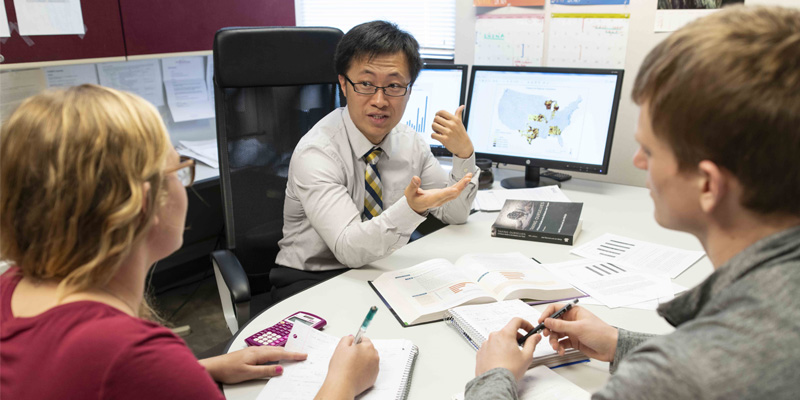 Dr. Fan Fei, assistant professor of business and economics, is among nine professors who will conduct research this summer with funding from the Northwestern College Scholarship Grants program.
Nine Northwestern College professors will conduct research and pursue further study this summer with funding from the Northwestern College Scholarship Grants program. The awards, ranging from $1,300 to $3,300, are designed to encourage the production of scholarship work for publication and distribution beyond Northwestern's campus.
Dr. Julie Dragstra, assistant professor of nursing, will use her grant to pay for a course designed to prepare nursing school faculty to teach the essential components of end-of-life care to nursing students and practicing nurses. It will also support Dragstra's plans to provide continuing education in end-of-life care to nurses at area hospitals and nursing homes.
Dr. Jennifer Feenstra, professor of psychology, will travel to Romania to work with New Horizons Foundation, a nonprofit youth development organization. The grant will support Feenstra as she develops, administers and summarizes a study designed to assess the long-term impact of the foundation's summer camp program.
Dr. Fan Fei, assistant professor of business and economics, will research whether tax incentives offered by state and local governments to attract business make economic sense. Fei plans to use a panel database developed by the W.E. Upjohn Institute of Employment Research to explore the determinants, effectiveness and impacts of those incentives.
Dr. Cambria Kaltwasser, assistant professor of religion, will spend her summer revising her dissertation for publication. Kaltwasser, who earned a doctorate in systematic theology from Princeton Theological Seminary, reinterprets the work of theologian Karl Barth to make room for the concept of personal spiritual growth.
Summer research by Dr. Han-Yen Kao, assistant professor of business and economics, will focus on the National Longitudinal Survey of Youth. Kao is building on his current work, which explores the impact of religious faith on a person's prosocial attitudes and behaviors. This latest study is part of his research into the economics of religion.
Piet Koene, associate professor of Spanish, will write a paper summarizing the opinions, experiences and recommendations of Hispanic students at Northwestern College. The paper will include qualitative analysis based on individual interviews, as well as quantitative data that provides historical context and comparisons with other institutions.
Chris Nonhof, instructor in education, will work with a student research assistant to examine how cultures and worldviews impact the educational process of students whose backgrounds differ from those of their teachers. Nonhof has researched educational outcomes and relationships in Liberia; Fritz Boyle, his research assistant, is a junior English teaching major from Peyton, Colo., who spent the spring semester teaching in Haiti.
Another international research project is the subject of work by Dr. Melanie Nyhof, assistant professor of psychology. She will continue her study of how Indonesian children and adults understand different kinds of belief disagreements involving religion, facts, opinions and morality. The results will shed light on possible cultural similarities and differences in knowledge development.
Finally, social work professor Donna Van Peursem will present several continuing education workshops throughout the state during the summer. Those attending the workshops will learn about the ethics involved in social workers' use of technology and social media. Van Peursem will also survey participants to look at specific issues they have faced in practice and how they have dealt with those issues.