Jennifer Feenstra Professor of Psychology; Department Chair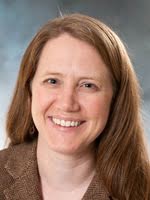 Education:
Ph.D., University of New Hampshire
M.S.T., University of New Hampshire
M.A., University of New Hampshire
B.A., Calvin College
712-707-7076
jfeenstr@nwciowa.edu
VPH 308
Dr. Feenstra is a social psychologist with research interests in social support, volunteering, and service-learning. Her research has been published in the Journal of College Student Development, Teaching of Psychology, Journal of Psychology and Christianity, and the Journal of Education and Christian Belief and she has made presentations at the annual meeting of the Society for Personality and Social Psychology and the American Psychological Association Annual Convention. She serves as the faculty adviser for Northwestern's chapter of Psi Chi, the national honor society in psychology.
Dr. Feenstra was named a Fulbright Scholar in 2011-12 and awarded a sabbatical to teach and do research in Romania. Working with Romanian colleagues at Babes-Bolyai University and the New Horizons Foundation, she looked at the effects of New Horizons Foundation programs on the development of social capital in Romanian youth.
PSY100SS - Exploring Psychology
(4 credits)(IGE option under Self and Society) In this course students learnhow, using methodologies such asobservation, survey and experimentation, psychological science exploresthe causes and consequences of human action. An overview of majorfindings from the field of psychology such as biological bases ofbehavior, learning and memory, motivation and emotion, human development,personality, intelligence, psychopathology and therapy, the effect ofothers on individuals will be discussed and students will be encouragedto apply this knowledge to their own views and actions. Students willconsider why the integration of faith and science in understanding humansis important and will explore ways of accomplishing this integration.
PSY214 - Social Psychology
This course involves the study of the way individuals think about, influence and relate to one another. Topics include: attitude change, social thinking, conformity, obedience, persuasion, prejudice, aggression, altruism, roles, norms and environmental influences on social behavior. The major aim of the course is to encourage an appreciation of the relationship between personal and situational determinants of social behavior.Prerequisite: PSY111, 221, or SOC101.(4 credits)
PSY215 - Research Design and Introductory Statistics
This course acquaints the student with basic empirical research techniques in the behavioral sciences including political science, psychology, social work and sociology. The course aims to enable the student to function as a conductor and a consumer of behavioral science research. Techniques include: observation, questionnaire and survey, interview, single-subject designs, qualitative research, and experimental and quasi-experimental methodologies. Topics include: descriptive and basic inferential statistics, sampling methods and research ethics. Prerequisites: PSY111, SOC101, PSC101, or PSC105, and fulfillment of the general education math requirement. (4 credits)
PSY225 - Developmental Psychology: Adulthood
This course explores psychological issues and theories in normal adult development, with emphasis on cognitive, social and personality functioning from young adulthood to old age.(4 credits)
Society for Personality and Social Psychology
Association for Psychological Science
Society for the Teaching of Psychology