Northwestern to offer major in music and worship leadership
Monday, May 9, 2016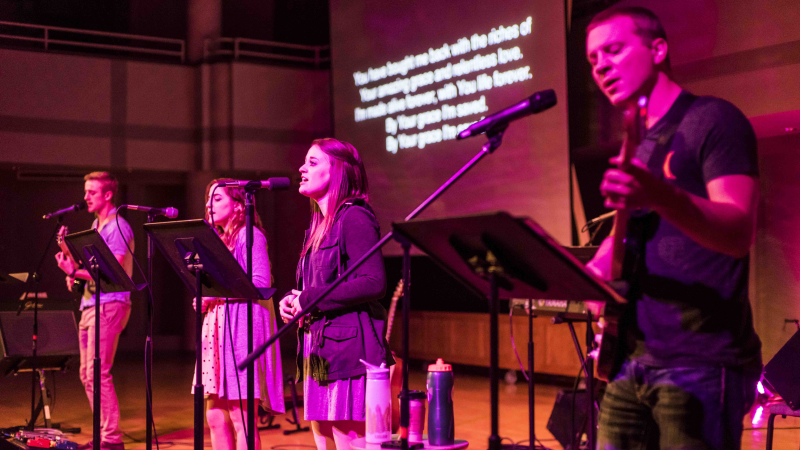 A new major in music and worship leadership will help prepare Northwestern College students for worship leadership roles in the church.
Northwestern College will launch a new major in music and worship leadership next fall in an effort to better prepare musicians for worship leadership roles in the church.
The major will include a variety of courses in music, religion and theatre to help give graduates a strong understanding of biblical worship, the creativity to frame and shape worship services, and the ability to work with and train others in technology.
"I'm excited about this opportunity for Northwestern as a Christian liberal arts institution to serve the church by preparing young people who are passionate about worship leadership and gifted through a breadth and depth of training," says Dr. Thomas Holm, professor of music and chairperson of the music department. "We have a unique opportunity and responsibility to serve the church in this way."
Northwestern's music faculty developed the major after talking with worship leaders about what skills are needed. Among the major's requirements are courses in the music of the church, conducting and orchestration; a class in the practice of music ministry; and a course in worship technology. Graduates will be expected to demonstrate proficiency in either piano or guitar and to receive training in voice and piano, as well as to complete a worship ministry internship.
"This program will have a solid theological foundation and a strong core in both the history of church music and the current trends," says Holm. "The major will also give students robust training in working with worship teams, learning how to lead them and be a pastor to them."
The new major replaces Northwestern's music ministry major. It also shares a number of courses with the year-old worship arts major housed in the theatre department.