Northwestern master's degree in early childhood education receives high national ranking
Wednesday, June 20, 2018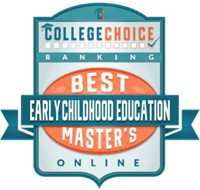 Northwestern College's online Master of Education degree in early childhood has received a national top-five ranking for best degrees of its kind by CollegeChoice.net.
The website ranks Northwestern's program fourth on its list of the 35 Best Online Master's in Early Childhood Education Degrees. The ranking is based on institutional reputation, graduation rates, selectivity and faculty resources. The website collects its data from the National Center for Education Statistics' IPEDs database, U.S. News & World Report, Payscale and individual college websites.
In its write-up about Northwestern's M. Ed. in early childhood, the site mentions several of the program's features, noting that it's fully online, intended to be completed in five or six semesters, and that students may add a birth through grade three inclusive settings endorsement.
"This ranking affirms that Northwestern's Master of Education degree in early childhood is of high quality and leads to a variety of employment opportunities for our students," says Dr. Sara Waring-Tiedeman, director of Northwestern's M. Ed. program. "We are grateful when external reviews validate the value of a Northwestern education."
In addition to an M.Ed. in early childhood, Northwestern offers M.Ed. degrees in educational administration, special education, master teacher and teacher leadership. Graduate-level endorsements and a 12-credit graduate certificate in teacher leadership are also available online through the college. More information about Northwestern's online programs is available at online.nwciowa.edu.