Northwestern College adds educational administration to graduate degree options
Wednesday, May 16, 2018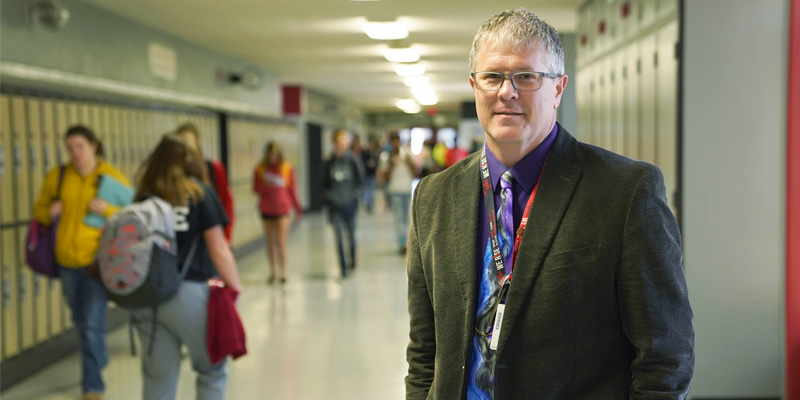 Dr. Kenneth Hayes, a Northwestern College graduate and high school principal in Fort Dodge, is among the faculty for Northwestern's new Master of Education degree in educational administration.
Northwestern College's graduate school has added another track to its Master of Education offerings: educational administration. The curriculum is offered entirely online and automatically includes the requirements for earning a PK-12 principal and supervisor of special education endorsement. Registration is open now; the next eight-week term begins July 2.
Northwestern's new educational administration M.Ed. is one of just six similar programs offered by Iowa colleges and universities and the least expensive. It's designed to prepare graduates for positions as a principal or supervisor of special education. It includes courses in learning environments and assessment, operations management, education law and ethics, and engagement with parents and the broader community.
The 37-credit program is aligned with the National Policy Board for Educational Administration (NPBEA) Professional Standards for Educational Leaders and Iowa Standards for School Leaders (ISSL). Students who complete the program will be automatically recommended to the state for principal endorsement certification.
"As has been the case for all of our M.Ed. tracks so far, we added this because it's in-demand—by both educators and their school districts," says Dr. Sara Waring-Tiedeman, director of Northwestern's Master of Education program. "Word is spreading that Northwestern has a top-notch graduate program that's both convenient and affordable, so teachers are getting in touch to ask, 'Can you offer a master's in the area I'm interested in?'"
Northwestern College's graduate school enrolls 207 students in its various programs, which include online M.Ed. degrees in early childhood, master teacher, special education and teacher leadership; a graduate certificate in teacher leadership; and three graduate-level endorsements: birth through grade 3 inclusive setting, instructional strategist I, and instructional strategist II.
For more information about Northwestern College's graduate programs or other adult learning opportunities—including online options that lead to a bachelor's degree in early childhood and coaching endorsements and authorizations—visit online.nwciowa.edu.