Northwestern College biology professor awarded grant
Friday, February 24, 2017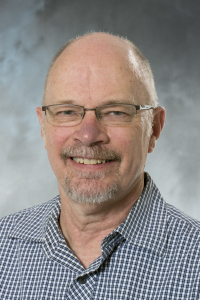 Dr. Byron Noordewier, professor of biology at Northwestern College, has been awarded a $700 grant from the Better Futures for Iowans Program.
Noordewier's grant is presented through the FUTURE in Biomedicine program at the University of Iowa Carver College of Medicine. The money is designated for fostering closer research collaborations between undergraduate institutions throughout the state of Iowa, promoting opportunities to translate discoveries in the biomedical field into education materials for classrooms in Iowa colleges and universities, and making research facilities available to a network of scientist-educators across the state.
Undergraduate faculty are eligible to apply for small grants to support laboratory-intensive projects that encourage hands-on experiences for students, like aiding in sample slide preparation or data analysis. All participants are invited to present their findings at the FUTURE in Biomedicine Research Symposium each year.
Noordewier's research, "Discovery Science: Bacteriophage Hunting in Microbiology," was one of nine projects selected to receive funding.
"Over the past decade, Northwestern's biology department has worked to embed discovery science into our course laboratories," says Noordewier. "Our most recent endeavor involves participation in a Howard Hughes Medical Institute project called SEA-PHAGES (Scientific Education Initiative Phage Hunters Advancing Genomic and Evolutionary Science). Currently we are the only college in Iowa to participate in the initiative, which is divided into two portions: a discovery phase and a bioinformatics phase."
In the discovery phase, students isolate a bacteriophage virus from soil samples and then purify and characterize it using Transmission Electron Microscopy (TEM). After isolating the virus and preparing the TEM grid, students will bring the samples to the University of Iowa so they can observe technicians using TEM to visualize their bacteriophages. The grant will provide partial funding so the phages can be imaged with electron microscopy.