RUSH student dance concert on stage at Northwestern
Wednesday, March 1, 2023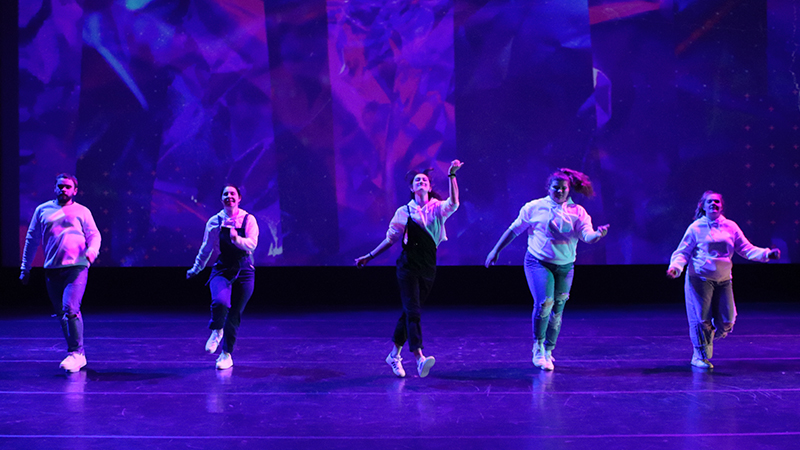 Northwestern College students will present their annual dance concert, RUSH, in the DeWitt Theatre Arts Center during five performances in March. Shows are scheduled for Thursday, March 23, at 7:30 p.m.; Friday, March 24, at 7:30 and 9 p.m.; and Saturday, March 25, at 2 and 7:30 p.m. in England Proscenium Theatre.
This year's concert will include dances in many styles, including hip-hop, K-pop, tap, rock and contemporary. All dances are choreographed and directed by students, and all students are welcome to participate in RUSH, even those with no prior dance experience.
There are 42 Northwestern students participating in RUSH this year, including nine in the college's NEXT program for students with intellectual or developmental disabilities. Local youth enrolled in Robin's School of Dance will also be part of the performances.
Madison Follett, an adjunct instructor at Northwestern, will serve as director of this year's event and will share producer credits with Drew Schmidt, NWC associate professor of theatre.
Tickets for RUSH are $1 and may be ordered through Northwestern's online box office at nwciowa.edu/tickets. A small credit card processing fee will be added to the ticket cost. Tickets will go on sale to Theatre Patrons on Thursday, March 9, and to the general public on Tuesday, March 14. Tickets may also be purchased at the door prior to performances.
---
Regarded as one of the best Christian college theatre programs in the country, Northwestern's theatre department features a collaborative, excellence-oriented environment committed to helping students develop their creative gifts for service in God's kingdom. Study with Northwestern's award-winning faculty in the outstanding facilities of DeWitt Theatre Arts Center.