Northwestern play to simulate autism spectrum through show design
Wednesday, October 23, 2019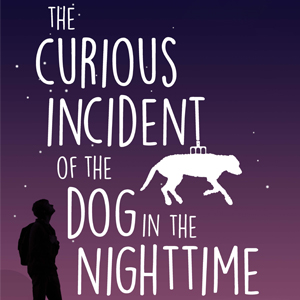 "The Curious Incident of the Dog in the Night-Time" will be on stage at Northwestern College Nov. 8, 9, 14, 15 and 16 in the England Theatre. The show will be presented at 7:30 p.m. each of those evenings; there will also be a 2 p.m. performance on Nov. 9.
The play, by Simon Stephens, is adapted from a novel of the same name. It follows 15-year-old Christopher Boone, a mathematical genius who is on the autism spectrum, as he tries to solve a neighborhood mystery.
Northwestern theatre professor Drew Schmidt is directing the show. He also designed the show's set, lights, sound and projections. His goal? An overwhelming sensory experience. Schmidt says a former student with high-functioning autism once explained what it's like for him in class: "He said it's like being in a room with 100 TVs all playing at full volume, and I, the professor, am on one of them."
That insight guided Schmidt's design. In one scene, Christopher's investigation takes him to the London tube (subway) station. As Christopher descends the escalator, the audience will also experience over-the-top noise, lights, people and advertisements to simulate the effect of the station on Christopher's senses. In another scene, swirling words simulate what's in Christopher's mind as he reads letters from a family member. "In that case, the effect is quite beautiful," says Schmidt.
Schmidt hopes the production's simulations stimulate empathy. Christopher's friends and family respond to him with varying degrees of understanding, the best of which enable Christopher to understand and advocate for himself.
"The Curious Incident of the Dog in the Night-Time" is two-and-a-half hours and not intended for young children. Tickets are $10 for adults and $5 for students and are available starting Oct. 28 for Theatre Patrons and Oct. 29 through Nov. 16 for the general public.
Tickets can be reserved at www.nwciowa.edu/tickets or by visiting the DeWitt Theatre box office between 5 and 8 p.m. Monday through Friday or between 1 and 4 p.m. on Saturday. The box office can also be reached by phone, 712-707-7098, or e-mail, boxoffice@nwciowa.edu.
---
Regarded as one of the best Christian college theatre programs in the country, Northwestern's features a collaborative, excellence-oriented environment committed to helping students develop their creative gifts for service in God's kingdom. Study with Northwestern's award-winning faculty in the outstanding facilities of DeWitt Theatre Arts Center.