Northwestern College to present Christmas Vespers
Thursday, November 21, 2019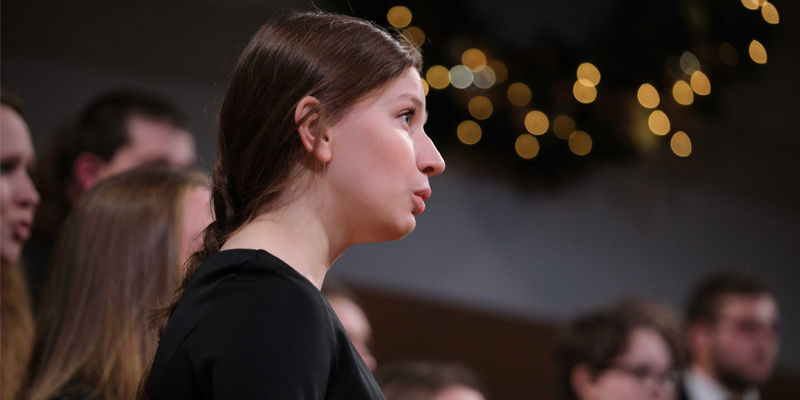 The Northwestern College music department will present its annual Christmas Vespers concert Saturday, Dec. 7, at 7 p.m. and Sunday, Dec. 8, at 3 p.m. in Christ Chapel. The event is free and open to the public.
This year's theme, "Nine Lessons and Carols," is a traditional format for Christmas worship services that originated in 1918 at King's College, Cambridge, and has been a frequent favorite for Northwestern audiences. Nine Scripture readings frame the Christmas story, beginning with the creation and fall of man, progressing through Old Testament prophecies of the coming Messiah to New Testament accounts of the Christ's birth, and concluding with John 1:1-14. The readings will be performed by Northwestern's Drama Ministries Ensemble.
The A cappella Choir, Women's Choir, Orchestra, Brass Ensemble and organist MaryLou Wielenga will perform a variety of festive music. Familiar pieces on the program include "Kyrie Eleison," "For Unto Us a Child is Born," "Let All Mortal Flesh Keep Silence," "In the Bleak Midwinter," "Silent Night," "Away in a Manger" and others. The audience will also be invited to sing many traditional carols.
Soloists will include flutist Hephzibah Park and sopranos Ashlynn Anderson, Liz Frisbee and Bree Hodnefield. "Ding Dong Merrily on High" will feature pianists Dr. Juyeon Kang and Nora Verburg and orchestra bells played by Sawyer Spain.
---
Northwestern's music department has a tradition of dynamic performances, outstanding faculty and standout educational experiences in an environment committed to glorifying God. Students can audition for one or more of 10 ensembles, having the opportunity to tour around the world and perform in the award-winning Christ Chapel.