Dr. Juyeon Kang Professor of Music; Acting Music Department Chair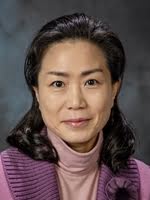 Education:
D.M.A., M.A., M.M., University of Rochester - Eastman School of Music
Artist Diploma, New England Conservatory of Music
B.M., Seoul National University
712-707-7061
jkang@nwciowa.edu
DMH 107
Pianist Juyeon Kang, a concert artist and educator, has performed and conducted master classes extensively on four continents and in the United States, Canada, Brazil, Costa Rica, Austria, Spain, Finland, Italy, Japan, China, Taiwan, Singapore, Malaysia, Thailand and Korea. She launched a performance career that included her debut solo recital in Boston's Jordan Hall after winning two first prizes in 1998: the Heida Hermann's Young Artists Competition and the Josef Hofmann Piano Competition. The latter led to an invitation to perform at the Embassy of Poland in Washington, D.C., where she presented the Chopin Commemorative Piano Concert on the 150th anniversary of Chopin's death.
Dr. Kang, who presented a solo recital in New York City's Carnegie Hall in 2013, has also appeared as a soloist with numerous symphony orchestras, including the Korean Symphony Orchestra, Augusta Symphony Orchestra, Hingham Symphony Orchestra, South Dakota Symphony Orchestra, and Sioux City Symphony Orchestra. Her performances have been aired on television in Korea and on National Public Radio in New York, Massachusetts, Georgia, South Carolina, Ohio and Iowa.
A native of Korea, Dr. Kang holds degrees in piano performance and literature, as well as in pedagogy of music theory.