Northwestern's Women's Choir and Orchestra to perform
Thursday, April 5, 2018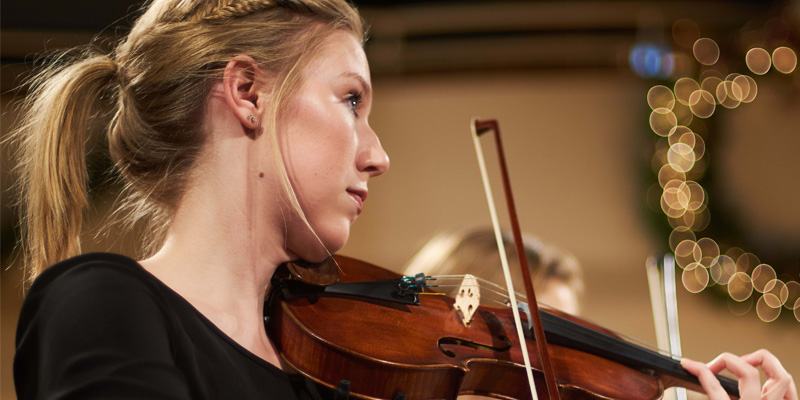 Northwestern College's Women's Choir and Chamber Orchestra will present a concert on Friday, April 20, at 7:30 p.m. in Christ Chapel. The event is free and open to the public.
"Why We Sing" is the theme for the Women's Choir's portion of the concert, with works representing the musicians' desire to sing because of music, family and faith. Among the pieces to be performed are "Be Like The Bird" by Abbie Betinis, Randall Thompson's "A Girl's Garden," "Mary Speaks" by Daniel Gawthrop, "Song of Miriam" by Elaine Hagenberg and "Music in My Mother's House," arranged by David Moore.
The Women's Choir is directed by Susan De Jong, an adjunct faculty member since 2014. She previously taught 9-12 choir and orchestra at Unity Christian High School in Orange City. De Jong earned a master's degree in music education at VanderCook College of Music and a bachelor's degree in K-12 choral and instrumental music education at Dordt College.
The Chamber Orchestra will perform a variety of dances from different eras. The repertoire includes Christoph Willibald Gluck's "Dance of the Blessed Spirits," "Symphony-Minuet in C" by Wolfgang Amadeus Mozart, Johannes Brahms' "Hungarian Dance No. 5," Antonin Dvorak's "Slavic Dance #1" and "Romanian Folk Dances" by Bela Bartok.
The orchestra is under the direction of Dr. Juyeon Kang, professor of music. A member of Northwestern's faculty since 2003, she is an award-winning concert pianist and educator who has performed and conducted master classes extensively on four continents. She earned doctoral and master's degrees in music at Eastman School of Music and a bachelor's degree from Seoul National University.