Kinesiology professor elected as chapter president of sports medicine organization
Wednesday, December 2, 2015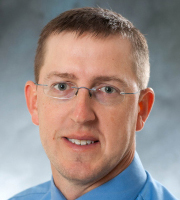 Dr. Dean Calsbeek, associate professor of kinesiology at Northwestern College, has been elected president of the Northland Regional Chapter of the American College of Sports Medicine (NACSM). Calsbeek will begin his term in January 2016.
Calsbeek has been a member of the American College of Sports Medicine since 1998, but joined the Northland chapter when he became a Northwestern faculty member in 2004. He was encouraged to run for president by his fellow members and received a presidential nomination by members of the NACSM executive board who recognized Calsbeek's performance as an at-large representative. He is serving as president-elect throughout 2015 and will serve as past-president following his term in 2016.
Primary duties include presiding over business meetings of the chapter and continuing the promotion of the chapter and its initiatives. Currently, the NACSM is working toward improving student research opportunities by offering student research grants.
The NACSM is made up of a diverse group of professionals and students dedicated to the advancement of sports medicine and exercise science. It is one of 12 regional chapters and covers the region of Minnesota, Nebraska, North Dakota and South Dakota, as well as neighboring states and Canadian provinces. The chapter seeks to share scientific information and provide support and a forum for research, as well as fostering professional peer interaction and career growth.
Calsbeek serves as the director of Northwestern's human performance lab and the program coordinator for the exercise science major, as well as career concentrations in fitness management and strength and conditioning. He also directs exercise science research and internships and serves as the faculty mentor for the Society of Pre-Physical and Occupational Therapy Students (SPPOTS).
A graduate of Northwestern College, Calsbeek earned a master's degree in exercise physiology and a doctorate in physiology from Colorado State University.