Dr. Dean J. Calsbeek '97 Professor of Kinesiology; Dean of Natural and Applied Sciences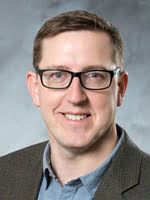 Education:
Ph.D., Colorado State University
M.S., Colorado State University
B.A., Northwestern College
712-707-7349
dcalsbeek@nwciowa.edu
SCI
Dr. Calsbeek earned a doctorate in physiology and a master's degree in exercise physiology from Colorado State University. He is the director of the Human Performance Lab and serves as the program coordinator for the exercise science major, as well as the career concentrations in fitness management and strength & conditioning. He teaches courses in exercise physiology and human physiology. He also directs exercise science research and internships and serves as the faculty mentor for the Society of Pre-Physical and Occupational Therapy Students (SPPOTS). A 1997 Northwestern graduate and former Raider football player, Professor Calsbeek assists the athletics department by announcing football games for Internet broadcasts.
BIO122 - Introduction to Human Physiology
An introduction to the physiology of the human body. The focus of the course will be on homeostasis and the function of: biomolecules, cells and tissues, organs and organ systems. The contribution of each of the following organ systems to physiologic homeostasis will be examined: nervous, muscle, cardiovascular, endocrine, respiratory, renal, reproductive and gastrointestinal. Prerequisite: CHE101 or 111; Concurrent requisite: CHE102 or 112. (4 credits)
KIN325WI - Physiology of Exercise
(4 credits)(Writing intensive) The study of the physiological effect of exercise on the human body. Emphasis will be given to metabolism, neuromuscular physiology, cardiopulmonary physiology, and the integration of all physiology systems. Note: Course includes one 90-minute laboratory period per week. Prerequisites: BIO121 and 122 or BIO221 and 222, CHE101 and 102 or CHE111 and 112, or permission of instructor.
American Physiological Society
American College of Sports Medicine