Dean Calsbeek Associate Professor of Kinesiology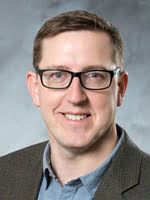 Education:
Ph.D., Colorado State University
M.S., Colorado State University
B.A., Northwestern College
712-707-7349
dcalsbeek@nwciowa.edu
BC
Dr. Calsbeek has a doctorate in physiology and a master's degree in exercise physiology. He is the Director of the Human Performance Lab and serves as the program coordinator for the exercise science major, as well as the career concentrations in fitness management and strength & conditioning. He teaches courses in exercise physiology, exercise testing and prescription, nutrition, and human physiology. He also directs exercise science research and internships and serves as the faculty mentor for the Society of Pre-Physical and Occupational Therapy Students (SPPOTS). A 1997 Northwestern graduate and former Raider football player, Professor Calsbeek assists the athletics department by announcing sporting events for Internet broadcasts.
BIO122 - Introduction to Human Physiology
(4 credits) An introduction to the physiology of the human body. The focus of the course will be on homeostasis and the function of: biomolecules, cells and tissues, organs and organ systems. The contribution of each of the following organ systems to physiologic homeostasis will be examined: nervous, muscle, cardiovascular, endocrine, respiratory, renal, reproductive and gastrointestinal. Prerequisite: CHE101 or 111; Concurrent requisite: CHE102 or 112.There is a fee associated with this course (http://www.nwciowa.edu/tuition/fees).
KIN101 - Concepts of Physical Fitness
The course examines various concepts of health and physical fitness with the purpose of encouraging the student to establish positive patterns of activity and healthy living.(2 credits)
KIN230 - Physiological Adaptations to Exercise
The study of the physiological effects of exercise on the human body. Prerequisite: BIO102 or 115. (3 credits; alternate years, consult department)
KIN241 - Directed Field Experience in Kinesiology I
Provides exposure to a variety of careers related to fitness, therapy, or sport management. Prerequisite: KIN180 or 182. (1 credit)
KIN330 - Exercise Testing and Prescription
(3 credits, alternate years, consult department)Provides knowledge and practical experience in physical fitness assessments, interpretation of assessment results, and exercise prescription. Emphasis is placed on assessments within a clinical or research setting.Prerequisite: KIN325 or permission of instructor. A fee is associated with this course (http://www.nwciowa.edu/tuition/fees).
KIN341 - Directed Field Experience in Kinesiology II
Provides practical work experience in fitness, therapy, or sport management settings. Prerequisite: KIN241. (1 credit)
KIN370 - Human Nutrition for Health Care Professions
The study of the fundamental principles of normal nutrition and the importance of nutrition in promoting growth and health. Emphasis will be given to the basic food constituents and their physiological relationships within the body. Consideration will also be given to family and community needs across the lifespan.Prerequisites: CHE101/102 or CHE111/112, BIO121/122 or BIO221/222.(3 credits)
American Physiological Society
American College of Sports Medicine
Christian Society of Kinesiology and Leisure Studies