NWC accounting grads record nation's second-best pass rate on CPA exam
Wednesday, August 29, 2018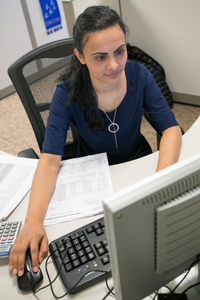 Northwestern College accounting graduates taking the CPA exam for the first time in 2017 recorded the nation's second-best pass rate among all institutions that had at least 10 candidates.
With a pass rate of 89.3 percent, Northwestern was behind only Washington and Lee University (89.5 percent), according to results reported by the National Association of State Boards of Accountancy. Also in the nation's top five, out of the 797 institutions with at least 10 candidates, were the University of Georgia (86.3 percent), Wake Forest University (84.5 percent) and the University of Virginia (84.2 percent). Northwestern graduates recorded an average score of 82.1.
"We are delighted, but not surprised, to be in such elite company," says Vonda Post, professor of business and economics and department co-chair at Northwestern. "Our graduates have a long tradition of proving that they can achieve at the highest levels, both on the exam and in their accounting careers. They are in demand by employers because of their exceptional accounting abilities; the assets they bring to their firms through the critical thinking, communication and problem-solving skills they developed at Northwestern; their strong work ethic; and their high degree of integrity."
Among the 252 institutions Northwestern's size—with 10 to 20 candidates taking the 2017 exam for the first time—Northwestern's 89.3 percent pass rate was the best. Other members of the top five in that category included Loras College (82.5 percent), Augustana University of Sioux Falls (78.8 percent), Claremont McKenna College (77.8 percent) and Coe College (77.4 percent).
The 2017 results continue Northwestern's legacy of recording CPA exam pass rates among the best in the nation. In 2016, Northwestern had the fifth-best pass rate (85 percent) among all schools with at least 10 candidates. Northwestern's pass rate of 82.6 percent in 2015 was 10th best among institutions with five to nine candidates. In 2014 NWC tied for 12th among institutions with five to nine candidates with an 81.8 percent pass rate. Northwestern accounting graduates achieved a 76.2 percent pass rate in 2013, ranking the school 14th among those with five to nine candidates. In 2012, Northwestern's 76.7 pass rate was 14th best among schools with 10 to 20 candidates.
Earlier this year, AccountingEdu.org ranked Northwestern as Iowa's top accounting bachelor's degree program based on its high CPA exam pass rate, the availability of internships and career services, and the cost to attend.
Northwestern accounting graduates are working with Big Four companies such as Ernst and Young in Minneapolis and KPMG in Des Moines. Other recent graduates are employed by such firms as Eide Bailly in Sioux Falls; Moss Adams in Bellingham, Wash.; RSM in Iowa City; Renewable Energy Group, Ames, Iowa; Schuring and Uitermarkt, Urbandale, Iowa; Van Bruggen and Vande Vegte in Orange City; Williams and Company, Sheldon; Kum & Go corporate headquarters in West Des Moines; and the U.S. Department of the Interior in Denver.