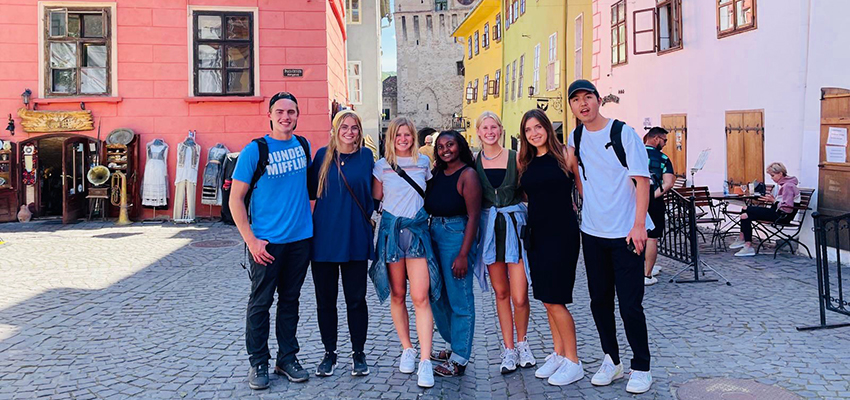 College is the perfect time to go places you've never been. By studying abroad, you'll experience other cultures firsthand, grow in independence and confidence, and maybe even learn a new language. The best part? Your overseas learning can count toward your college degree and might even help you graduate faster.
Here are some other perks of taking anywhere from a month to a semester to study abroad:
Make cross-cultural connections.

By observing people's daily routines, sampling their culinary creations and engaging in everyday conversations, you'll learn plenty about a country's residents and their way of life. You will likely make some international friends—and because study abroad programs often draw college students from across the United States, you could develop relationships with students from other American colleges and universities. When you return to campus, you'll bring fresh insights that will challenge and inspire your peers. That's why Northwestern College provides study and service opportunities around the world.

Grow in global perspective—and stand out to future employers.

As you settle into your new surroundings, you may find yourself becoming more aware of the culture you grew up in and how it compares to where you're studying. This insight—along with coursework taken in a foreign language or in cultural studies—will set you apart from your peers when you apply for jobs or graduate schools. Employers will value your experience interacting with people outside the U.S., as well as your willingness to adapt to a new environment.

Go on an adventure! (With support from the experts.)

If you pursue a study abroad experience with your college, chances are they'll help you apply to the program, make travel arrangements, and apply for a visa. Northwestern College's global education office provides these services to any student enrolled in our award-winning Romania or Oman semesters. If you apply to a program with another school, our helpful staff members will check in to see how things are going, offer opportunities for orientation before you go, and set up a time to discuss your experience once you return home. Plus, study abroad programs have on-site staff to help you navigate any challenges and process the experience.

See the world without spending a wad.

Many schools allow you to apply 100% of your financial aid to a semester abroad—especially if the experience is a requirement for your major. If you pursue a program that's not sponsored by your college, the chances of keeping your full financial award aren't as great, but you may be able to use at least a portion of those funds to pay for your study abroad experience. Northwestern also offers 3- to 4-week summer study abroad courses, which introduce students to new places without requiring a semester-long commitment. These experiences are led by Northwestern professors, are often a strong complement to a major's coursework, and meet cross-cultural requirements.

Earn academic credit toward your degree.

Some colleges include a foreign language or cross-cultural class as part of the requirements for their general studies core or for a specific major. In many cases, you can meet that requirement with study abroad experience, perhaps by taking a language class in a country where English isn't the primary language.
Wherever your college journey takes you, be sure to carve out time to explore the world around you. Once you step outside your comfort zone, you'll be surprised by the unique places—and people—that are part of God's amazing creation.
Northwestern offers its own summer and semester-long study abroad opportunities and also partners with programs in more than a dozen countries around the world. Visit nwciowa.edu/study-abroad to learn more.