Play about the life of Charles Darwin to be performed at Northwestern
Thursday, September 29, 2016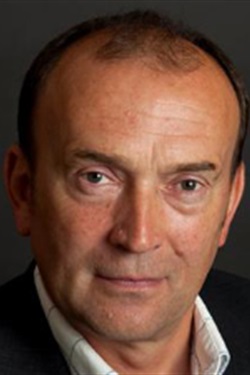 "Mr. Darwin's Tree," a one-man play about the life and work of scientist Charles Darwin, will be performed in Northwestern College's England Theatre on Tuesday, Oct. 11, at 7:30 p.m. The free performance will be followed by a reception and panel discussion.
Written by noted playwright and director Murray Watts, the play stars leading British film, TV and theatre actor Andrew Harrison. Based on Darwin's letters and journals, the play expounds on the scientist's life, his struggles with faith, and the challenges his theories posed to traditional beliefs. It also presents Darwin's wife, Emma, as an intelligent and articulate representative of Christian faith.
"Murray Watts is an important Christian playwright who has written an impressively thoughtful play,"
 says Dr. Laird Edman, psychology professor at Northwestern. "Andrew Harrison's performance is quite moving, and in the end, the play raises very good questions about faith, family, science and theology."
Watts, Harrison and two members of Northwestern's faculty will participate in a panel discussion after the show.
"'Mr. Darwin's Tree' is not a play which is polemical in any way," says playwright Watts. "It does not seek to explore the relative merits of evolution, whether theistic or atheistic, and it does not examine arguments for creationism or intelligent design. Rather, it looks intently at the emotional, psychological and spiritual crises at the heart of one of the most earth-shattering periods in our cultural and scientific history."
Murray has authored a number of screenplays and books, including "The Miracle Worker," a novel and movie based on the life of Jesus; "KJB: The Book That Changed the World," a film that explores the sociopolitical and historical background for both James I of England and the King James Version of the Bible; and an illustrated collection of Bible stories titled "The Bible for Children."
The play will be performed at 20 North American college campuses with the aim of enhancing the conversation about science and religion. The production is sponsored by Northwestern's science and faith fellowship, YADA; Scholarship and Christianity in Oxford, the U.K. subsidiary of the Council for Christian Colleges & Universities; and the Templeton Religion Trust.
Click here to watch the trailer.