Northwestern College to host annual Day of Learning in Community
Friday, January 29, 2016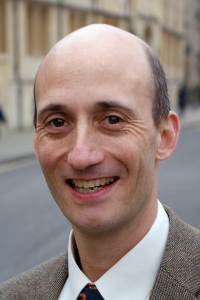 Northwestern College will celebrate its annual Day of Learning in Community (DLC), themed "Science and Faith," on Wednesday, Feb. 10. Community members are invited to attend the day's events, which are free.
Keynote speaker for the DLC is Dr. Justin Barrett, a pioneering experimental psychologist in the cognitive science of religion. He will speak in Christ Chapel at 9 a.m. The author of several books, including "Born Believers: The Science of Children's Religious Belief," Barrett explores the ways in which the human mind is primed for divine belief and connection. "[B]elief in God is an almost inevitable consequence of the kinds of minds we have," he wrote in his first book, titled "Why Would Anyone Believe in God?"
With degrees from Calvin College and Cornell University, Barrett has taught at Oxford University and currently is the Thrive Professor of Developmental Science at Fuller Theological Seminary's School of Psychology.
Barrett's keynote speech will be followed by a reception at which attendees can both interact with the psychologist and view student and faculty poster presentations of research exploring the intersections between science and faith. Among the posters will be one by senior biology health professions major Laura Hurley, who is presenting her research on vaccinations and the Christian responsibility to love one's neighbor as one's self. Joseph Tolsma, a junior ecological science major, has prepared a poster titled "Epigenetics and Justice: Do Our Genes Make it Harder to Escape Poverty?"
Also on Wednesday, DLC participants will have three opportunities to attend science and faith sessions led by students, alumni, and faculty and staff members. Senior religion major Lincoln Morris will present "Adam from the Adamah." "Adamah" is Hebrew for ground or earth, and Morris will explore the created connection between man and nature, including what scientific study tells us about how God wants humans to understand the world and care for it. Jason Flanagan, a 2000 Northwestern College graduate who is a genetic counselor at Sanford Health, will discuss the ethics of collecting and acting on genetic information. Psychology professor Dr. Jennifer Feenstra will present "Deliver Us From Evil: Social Psychological Perspectives on Evil."
Dr. Laird Edman, a Northwestern psychology professor who studies Barrett's work and also conducts research on the cognitive science of religion, is chairperson of the DLC planning committee. "There's a common misperception that science and faith conflict with each other," says Edman. "But as Reformed Christians, we believe God reveals truth in both Scripture and the created world. Barrett argues our minds are made for belief. This doesn't mean science explains faith, or faith supplants science; it means they inform each other. Our minds are capable of integrating both what we know from Scripture and what we know from science. It will be exciting to spend a whole day exploring those connections as a learning community." 
Northwestern classes and regular activities will be canceled on Feb. 10 so faculty, staff and students can participate in DLC events. For details about the 2016 Day of Learning in Community, visit www.nwciowa.edu/dlc.