Student to serve as climate leadership fellow
Wednesday, September 9, 2015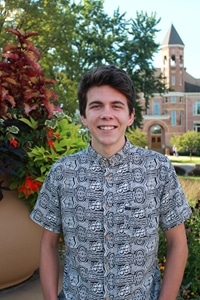 Joseph Tolsma, a Northwestern College junior, has been selected as a Young Evangelicals for Climate Action (YECA) Climate Leadership Fellow for the 2015–16 academic year.
Tolsma, a biology ecological science major from Orange City, applied for the leadership fellow position after receiving encouragement from Northwestern biology professor Dr. Laura Furlong. "I was excited about the opportunity because I had already been involved in some climate action work on campus, and I figured this was a great way to connect Northwestern to a really promising organization," says Tolsma.
YECA's mission is to equip young Christian leaders to promote biblical understanding of the climate crisis in the United States. Leadership fellows are responsible for developing a strategy and specific project to engage their campus, church or community in understanding and affecting climate change.
"I really appreciate how versatile YECA's fellowships are," says Tolsma. "Some of the fellows attend a college that generates almost 50 percent of its power from solar panels. Northwestern isn't there yet, so my fellowship will look different from theirs, and it's great that YECA allows so much freedom in creating a plan specific to our different situations."
Leadership fellows must be undergraduate college students and are required to participate in a training retreat in August. They are given project support by YECA, in addition to related travel expenses and a stipend.
"During our retreat, we developed yearlong plans for our respective communities," says Tolsma. "Some of my goals include improving recycling on campus, creating a more consistent Creation Care Club, and encouraging the administration and Board of Trustees at Northwestern to craft a commitment to creation care."
One of the most important lessons Tolsma took away from the retreat came from the executive director of Au Sable Institute of Environmental Studies, Dr. Fred Van Dyke, who taught at Northwestern from 1992 to 2001.
"He stressed the importance of working within the bounds of the institution and with the administration to create lasting change," says Tolsma. "Through education and respectful conversation, I want to work with Northwestern to create change that will last long after I graduate. If I can do this, I may not be able to reap the benefits, but the college and climate will look different for the next generation. That is true change and progress; that is how we love our neighbors and it is the best way I know how to worship."