Noordewier earns national honor
Wednesday, January 29, 2014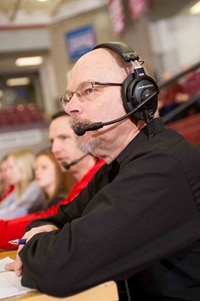 Dr. Byron Noordewier of Northwestern College has been named the 2013 Wally Schwartz Faculty Athletics Representative of the Year by the NAIA. This illustrious award, initiated in honor of past NAIA Vice President of Legislative Services and NAIA Hall of Famer Wally Schwartz, recognizes a faculty athletics representative who exemplifies the loyalty, enthusiasm and honesty displayed by Schwartz during and beyond his time at the NAIA. Noordewier will be formally recognized at the 73rd Annual NAIA Convention Awards Luncheon on Saturday, April 12, in Kansas City, Mo.
"It is my privilege to recognize Byron for his service to Northwestern College, the Great Plains Athletic Conference and the NAIA," said Jim Carr, NAIA president and CEO. "Byron is admired for his work in academia and athletics and has been an invaluable liaison and advocate for student-athletes at Northwestern College and beyond, embodying many of the qualities Wally Schwartz himself possessed. I'm honored to present this award to such a deserving recipient."
Noordewier, who has been a professor of biology at Northwestern for 25 years, has spent much of that time as a liaison between academics and athletics, earning the respect and admiration of administrators in both sectors of the college.
"As a faculty athletics representative, Byron puts the student first, athletics second and helps them find ways to accomplish their goals beyond the athletic field or court. He manages to do this while also being an effective advocate for student-athletes when academics and athletics conflict, either for the student or the institution," said Dr. Jasper Lesage, Northwestern's provost.
Lesage's thoughts on Noordewier's impact were echoed by Barry Brandt, Northwestern's athletics director, who said, "Byron sees the importance of the position of faculty athletics representative and the great potential the position has for making a difference in the lives of student-athletes and in the institutions and organizations that serve and govern them." 
Because of his commitment to the true student-athlete experience, Noordewier has immersed himself in a variety of roles in service to this ideal. In academia, Noordewier serves as the president of the faculty at Northwestern, a position to which he has been elected twice over the past six years. In athletics, he is a highly engaged faculty athletics representative who attends the vast majority of Northwestern's home events, and many away contests, often serving as the color commentator on the Red Raiders' webcasts. Noordewier has also performed duties at the conference and national levels.
Noordewier has been involved with the Great Plains Athletic Conference (GPAC) since its inception in 2000-01, including serving two years as GPAC president and five years as GPAC eligibility chair. His leadership and input have been an integral component in the GPAC's growth and development over the past 14 years, which inspired GPAC Commissioner Corey Westra to nominate Noordewier for this national honor.
"I am honored to make this nomination on behalf of a person I have a great amount of respect for and call a colleague and friend," wrote Westra in his letter of nomination to the committee."We are so privileged to have him in the GPAC and I can't think of anyone who embodies the traits of Wally Schwartz more than Dr. Byron Noordewier. The GPAC owes a debt of gratitude to Dr. Noordewier and we proudly nominate him for this prestigious NAIA award."
Noordewier has also served the NAIA in a number of roles during his time as a faculty athletics representative including: two years on the Academic Task Force, three years on the A.O. Duer Scholarship Award Selection Committee, three years on the Membership Committee, five years on the National Coordinating Committee and seven years on the Council of Faculty Athletics Administrators—three as the chair.
At both the conference and national levels, Noordewier has also acted as a prominent representative of the NAIA in meetings with prospective GPAC and NAIA members—an advisory role he has earned because of his tireless service and commitment to Northwestern, the GPAC and the NAIA.
The Wally Schwartz Faculty Athletics Representative of the Year Award winner is selected by the NAIA National Administrative Council Awards Committee. To learn more about the award, click here.