Theatre major receives NWC Faculty Honors award
Saturday, May 13, 2023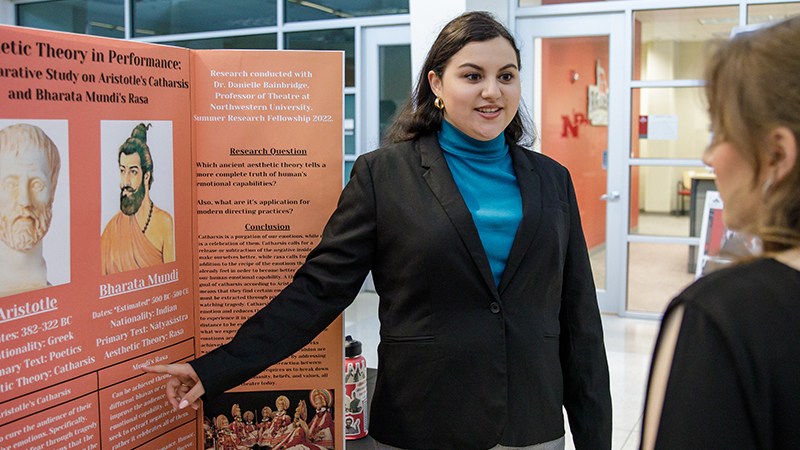 Sierra Tumbleson, a theatre major from Trimont, Minnesota, received Faculty Honors during Northwestern College's commencement exercises on May 13.
The Faculty Honors award is bestowed upon graduates who excel in academic achievement, Christian influence, general attitude and participation in worthwhile campus activities. The highest honor the faculty gives to graduating seniors, it is determined by a vote of the entire faculty.
Tumbleson graduated summa cum laude after compiling a grade point average of 3.90 or above. An Honors Scholar, she received the Outstanding Graduating Senior Award from the theatre department faculty.
Active in Northwestern's theatre productions as an actor, sound designer and dramaturge, Tumbleson earned several honors. Last summer she was one of approximately 25 students selected for Northwestern University's Summer Research Opportunity Program, and she also was chosen to participate in Yale University's Indigenous Performing Arts Program. This summer she will complete an apprenticeship at Commonwealth Shakespeare Company in Boston and be among eight regional winners participating in a dramaturgy fellowship with the Kennedy Center in Washington, D.C.
Tumbleson served as a speaking fellow for Northwestern's First-Year Seminar and was a peer tutor for several classes.
In September she will begin studies toward a Ph.D. in theatre at Northwestern University, one of the world's most prestigious doctoral programs, for which she was awarded a full scholarship.
---
Regarded as one of the best Christian college theatre programs in the country, Northwestern's theatre department features a collaborative, excellence-oriented environment committed to helping students develop their creative gifts for service in God's kingdom. Study with Northwestern's award-winning faculty in the outstanding facilities of DeWitt Theatre Arts Center.