Northwestern College to present "Harvey" in six April performances
Wednesday, April 5, 2023
"Harvey," the beloved tale of Elwood P. Dowd and his best friend—a 6-foot-tall invisible rabbit—is the next theatre production at Northwestern College. Performances are scheduled at 7:30 p.m. on Friday, April 21, and Thursday, April 27, and at 2 and 7:30 p.m. on two consecutive Saturdays, April 22 and 29. The show will be staged in the England Proscenium Theatre in the DeWitt Theatre Arts Center. 
American playwright Mary Chase won a Pulitzer Prize for "Harvey" in 1945. Her story centers on the mild-mannered Dowd and his sister and niece, who find his tendency to introduce the unseen Harvey to others both eccentric and embarrassing. A comedy of errors ensues, however, when they decide to have him committed to a sanitarium.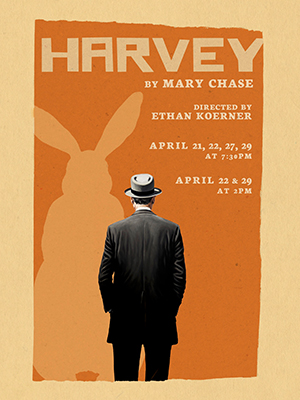 Theatre professor Ethan Koerner, who serves as the show's director, chose the play for two reasons. "It's both a very funny show and a great examination of who gets to decide who or what crazy is," he says.
The cast of 12 includes Liam Nibbelink, who plays Elwood P. Dowd, and Sierra Tumbleson, who fills the role of Dowd's sister, Veta Louise Simmons. Tumbleson is also doing sound design for the show, while Chloe Tschetter is creating the costumes and Cheyenne Schmit is serving as the lighting designer.
Tickets for "Harvey" are $10 for adults and $5 for students. They go on sale to Theatre Patrons April 7 and to the general public starting April 12. Tickets can be reserved at nwciowa.edu/tickets or by calling e-mailing boxoffice@nwciowa.edu or calling 712-707-7098.
---
Regarded as one of the best Christian college theatre programs in the country, Northwestern's theatre department features a collaborative, excellence-oriented environment committed to helping students develop their creative gifts for service in God's kingdom. Study with Northwestern's award-winning faculty in the outstanding facilities of DeWitt Theatre Arts Center.