Jonah and the whale on stage at Northwestern
Wednesday, September 11, 2019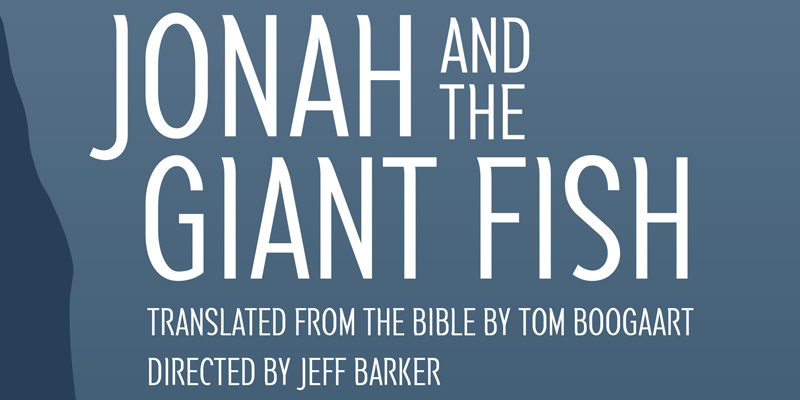 The well-known Bible story of Jonah and the whale will be on stage at Northwestern College Friday, Sept. 27, at 7 p.m. and Saturday, Sept. 28, at 4 p.m. for general admission audiences in the Allen Theatre. Titled "Jonah and the Giant Fish," the play is also being presented to schoolchildren every Tuesday and Thursday noon from Sept. 26 to Nov. 12.
The play action is just 20 minutes but will be preceded by a 20-minute design showcase to engage the audience—especially children—in the sound, light and stagecraft that will simulate a ship tossing on the waves, a dramatic storm and the belly of a big fish. "Audience members will experience what Jonah experiences," says director Jeff Barker, professor of theatre at Northwestern, explaining that the design preview is intended to make parts of the play, like the storm that results in Jonah being thrown overboard, thrilling rather than scary.
Members of the 13-person cast will play multiple roles, including operating a giant fish puppet that is being designed and built by technical designer Ethan Koerner, a visiting instructor in Northwestern's theatre department.
"Jonah and the Giant Fish" was translated from Scripture by Tom Boogaart, Barker's partner in his ancient Hebrew plays project and co-author for a forthcoming book, "Performing the Plays of the Bible."
Tickets for "Jonah and the Giant Fish" are $10 for adults and $5 for students. The shows take place during Northwestern College's Raider Nation Celebration weekend and are free for alumni and their family members. Tickets are available starting Sept. 16 for Theatre Patrons and Sept. 17–28 for the general public.
Tickets can be reserved at www.nwciowa.edu/tickets or by visiting the DeWitt Theatre box office between 5 and 8 p.m. Monday through Friday or between 1 and 4 p.m. on Saturday. The box office can also be reached by phone, 712-707-7098, or e-mail, boxoffice@nwciowa.edu.