Edman receives Northwestern Teaching Excellence Award
Saturday, May 13, 2017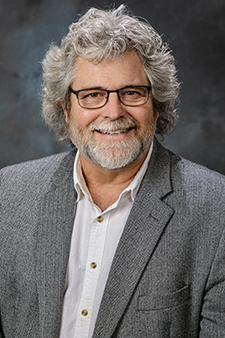 Dr. Laird Edman, professor of psychology at Northwestern College, has been named this year's recipient of the Northwestern Teaching Excellence Award. He was honored during the college's commencement ceremony on May 13.
Sponsored by the Alumni Association, the award is administered by a selection committee made up of members of the Student Government Association and the Sigma Tau senior honor society, along with past award winners and a representative of the Faculty Development Committee. Nominations were received for 13 faculty members. The committee chose Vonda Post, professor of business and economics; Drew Schmidt, assistant professor of theatre; Dr. John Vonder Bruegge, assistant professor of religion; and Dr. Wayne Westenberg, associate professor of mathematics education, as finalists along with Edman.
The major factor used in selected the award winner is evidence of strong teaching ability. The committee looks at faculty vitae, service reports and course evaluations in addition to the comments of nominators.
A member of Northwestern's faculty since 2002, Edman has been described as a dynamic professor who is passionate about psychology, students and teaching. "He speaks in a manner that grasps students' attention and keeps it," wrote a student who nominated him for the award. "Not only is he extremely knowledgeable in his field, but he displays his knowledge in a way that is fun and interesting. He really got me to think and engage the material. He cares about his students and knows how to get the most out of each opportunity to teach."
Edman, who also received Northwestern's Teaching Excellence Award in 2008, specializes in the cognitive science of religion, critical thinking, emotional intelligence, and teaching and assessing critical thinking. One of just 25 professors from around the world chosen to participate in a series of research seminars on science and religion at Oxford University, he is writing a book, "Resourcing Christian Faith: Lessons From the Cognitive Science of Religion," that aims to chart new and innovative ways for leaders in ministry to benefit from a more accurate understanding of human cognition and psychology.
Edman's research has been published in a number of journals, including the Psychology of Religion and Spirituality, the Journal of Psychology and Christianity, and the National Honors Report. He has also presented papers, workshops and seminars at the annual conferences of organizations such as the American Psychological Association, Association for Psychological Science, and International Association for the Cognitive Science of Religion.
Before joining Northwestern's faculty, Edman taught at the University of Minnesota, Iowa State University, Waldorf and Luther College. In addition to winning teaching awards at Waldorf and Iowa State, Edman held the Northwestern College Endowed Professorship from 2011 to 2016.
A graduate of Luther College, Edman earned master's degrees in English literature and counseling psychology at the University of Notre Dame. He holds a doctorate in educational psychology from the University of Minnesota.