Northwestern psychology prof and alum present at conference
Friday, April 21, 2017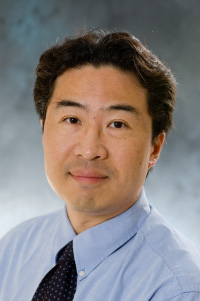 Dr. Terry Chi, assistant professor of psychology at Northwestern College, and 2015 graduate Allison Klabo presented at the annual meeting of the Midwestern Psychological Association (MPA) in Chicago April 20–22.
Their poster presentation, "Do Interoceptive Deficits Explain the Body Image–Unhealthy Eating Association?" was based on a study about how interoception may mediate body image and the likelihood of developing an eating disorder.
Interoception is a sensory system in the human body responsible for detecting internal regulation responses, like respiration, hunger and heart rate. As part of their research, Chi and Klabo surveyed approximately 275 non-clinical participants on assessing their body image, interoceptive abilities and eating behaviors. Their findings showed associations between negative body image and unhealthy eating, as well as interoceptive deficits and negative body image, and interoceptive deficits and unhealthy eating. This study contains clinical implications that may assist in the treatment of eating disorders.
The oldest psychological association in the Midwest, the MPA hosts annual meetings to share research across all areas of psychology, featuring invited addresses and lectures from leading psychologists. The event also features papers, posters and workshops addressing a wide range of topics in current psychological science, including research methods, statistics and teaching techniques.
Prior to joining Northwestern's faculty in 2011, Chi was an assistant professor of psychology at the University of Wisconsin-Parkside. He has also served as a member of research staffs at the University of Southern California and the University of California at Berkeley and Irvine. His articles have appeared in a number of peer-reviewed journals, including the "Journal of Abnormal Child Psychology," "Journal of Attention Disorders," "Journal of Behavioral and Social Sciences" and the "Journal of Consulting and Clinical Psychology."
A graduate of the University of Texas, Chi went on to earn a doctorate from the University of California at Berkeley.
Klabo will complete her master's degree in mental health counseling this May at Marquette University in Milwaukee.