Edman to participate in Oxford seminars
Wednesday, December 10, 2014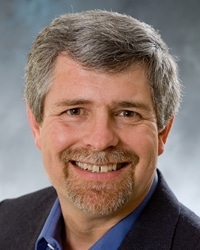 Dr. Laird Edman, professor of psychology at Northwestern College, has been selected to participate in a series of research seminars in Oxford, England.
Scholarship and Christianity in Oxford (SCIO), in partnership with the UK Centre of the Council for Christian College and Universities (CCCU), will host a series of summer seminars aimed at developing interdisciplinary skills in science and religion. The 2015–16 seminar, entitled "Bridging the Two Cultures," is focused on bridging the academic and cultural divide centered around the cross-discipline collaboration of science and religion.
Twenty-five career faculty members have been selected from across the globe to participate in the series of research seminars, guided by eminent scholars, to develop their interdisciplinary training. They will be joined by theologians, historians, philosophers, social and natural scientists in exploring contemporary science and religion issues.
Edman has been selected as one of the scholars to participate in the summer session, which will take place in August 2015 and July 2016. Edman is among a select group of senior scholars who will spend time mentoring younger professors and organizing workshops in their field of expertise. The seminars will include lectures, mentoring sessions, workshops, and excursions to historical sites, such as Charles Darwin's rooms in Cambridge and Francis Bacon's birthplace. Participants will also receive support for individual research projects intended for publication and funding to establish science and religion student clubs at participants' home institutions.
Academic director for "Bridging the Two Cultures" is Dr. Alister McGrath, the Andreas Idreos Chair in Science and Religion at Oxford University. An eminent theologian and historian, he has written numerous books, including "Science and Religion: A New Introduction," "Christianity's Dangerous Idea," "Mere Apologetics," "The Twilight of Atheism," "Christian Theology: An Introduction" and "Christian Faith and the Discipleship of the Mind."
Prior to joining Northwestern's faculty in 2002, Edman taught at the University of Minnesota, Iowa State University, Waldorf and Luther College. In addition to earning a Teacher of the Year award from Waldorf, Edman received Northwestern's Teaching Excellence Award in 2008 and holds the college's endowed chair in psychology. During his sabbatical last year, Edman worked with Dr. Justin Barrett of Fuller Theological Seminary on a book about cognitive and psychological issues related to worship and discipleship. Barrett is on the advisory board for "Bridging the Two Cultures."
A graduate of Luther College, Edman earned master's degrees in English literature and counseling psychology at the University of Notre Dame. He holds a doctorate in educational psychology from the University of Minnesota.