Psychology professor presents research
Wednesday, January 8, 2014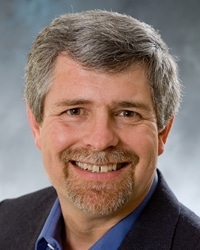 Dr. Laird Edman, professor of psychology at Northwestern College, has recently presented his research at conferences in Massachusetts and Washington.
Edman presented his research, "Just Weird Enough? Counter Intuitiveness and the Memory of Theological Concepts," at the Society for the Scientific Study of Religion's annual conference in Boston. Edman's presentation was based on initial work done by his research team on how some theological concepts are much easier to learn and remember than others based on their cognitive characteristics.
Edman gave a second presentation at the conference, entitled "Theological Correctness, Practiced Naturalism, and the Intrusion of Intuitive Concepts." His presentation was based on a senior thesis by 2013 graduate Kirsten McConnel, who co-presented with Edman at the conference. The research focused on how people's natural intuitions intrude on their theological decisions, even if they profess to know better or to believe differently.
In Seattle, Edman presented "Priming Analytical Thinking Does Not Diminish Religious Belief" at the Is Christianity Natural? Evolutionary and Cognitive Science Perspectives conference. "This presentation was based on an article that received international press by claiming that priming analytic thinking diminishes religious belief," explains Edman. With assistance from Dr. Julie Yonker, assistant professor of psychology at Calvin College, and Dr. Jim Cresswell, assistant professor of psychology at Booth University, Edman recreated the study using a much larger sample size and ended up with opposite results. "We're in the process of polishing our work for submission to publication," says Edman. "This study is perhaps the most important thing I've been working on."
Edman and McConnel also co-presented their research at the conference, "Measuring Counter-Intuitiveness in Abstract Theological Concepts: A Bridge Too Far?" This presentation was part of the study about theological concepts and how their cognitive characteristics affect memory and learning. "Dr. Justin Barrett, psychology professor at Fuller Graduate School of Psychology, and Dr. Bob McCauley, psychology professor at Emory University—two of the people whose theories we were testing in our work—were in the audience during the presentation," says Edman.
A member of Northwestern's faculty since 2003, Edman earned the college's Teaching Excellence Award in 2008 and holds the Northwestern College Endowed Chair in Psychology, which has partially funded his research. His work has appeared in numerous publications, including Psychological Reports, The Journal of the National Collegiate Honors Council, and The National Honors Report. After completing master's degrees in both psychology and English from the University of Notre Dame, Edman went on to earn a doctorate in educational psychology from the University of Minnesota.