Physics professor patents invention
Thursday, August 29, 2013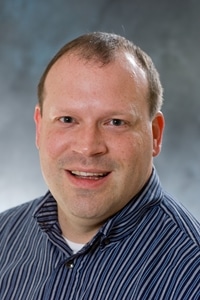 A software invention by Dr. Frank Bentrem, Northwestern College physics professor, was issued a patent by the United States Patent and Trademark Office July 30. The invention (Patent No. 8498480) was developed by Bentrem when he worked as a research physicist at the Naval Research Laboratory, Stennis Space Center, Miss., for 10 years before coming to teach at Northwestern.
Labeled "Computationally efficient method for image segmentation with intensity and texture discrimination," Bentrem's software invention enables a computer to quickly segment a sonar image into different areas of brightness and texture that can then be assigned material categories.
The software will be useful in a variety of applications including those involving medical, satellite and underwater sonar imagery. A brain scan, for example, can be segmented into healthy and tumorous tissue. An ocean floor image can be segmented into areas of mud, sand and rock.
The patent is owned by the U.S. Navy, ensuring the software can be applied by the Navy toward any research where it can help interpret sonar imagery.
Bentrem, who joined the faculty in 2010, directs Northwestern's physics department and dual-degree engineering program that enables students to graduate in five years with two degrees: a B.A. in math from Northwestern College and a B.S. in one of 11 engineering specializations from the University of Minnesota.