Northwestern College A cappella Choir finalizes preparations for tour of Denmark and Sweden
Wednesday, May 4, 2022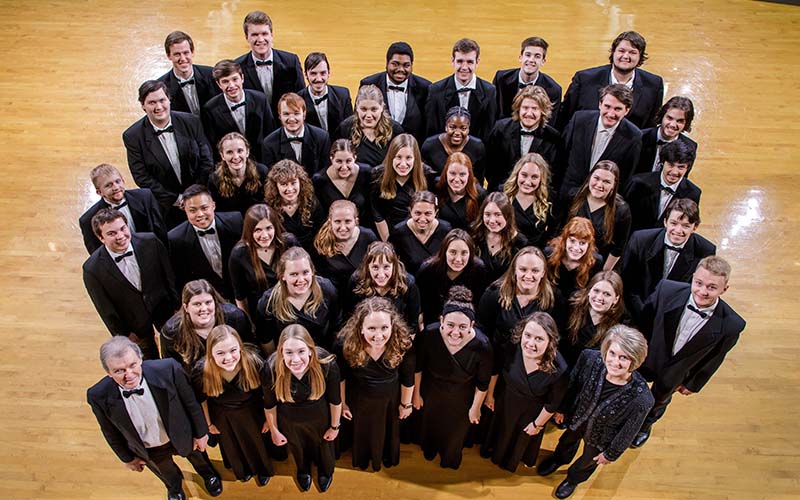 After spending the school year making plans, preparing music and fundraising, Northwestern College's A cappella Choir will soon embark on its tour of Denmark and Sweden, May 17–29.
The 46-member ensemble is scheduled to perform eight concerts—including a joint performance with a Copenhagen university and a concert for former prison inmates and their families. The A cappella Choir will also share music during a Sunday morning church service in Copenhagen. The tour will conclude with a performance at the Sankta Clara Church in Stockholm, Sweden.
"We are grateful to God for opening the door to Denmark and Sweden when COVID-19 restrictions prevented our tour to Taiwan," says Dr. Thomas Holm, director of the A cappella Choir. "In addition to sharing our music with new audiences, we will be enriched by developing friendships, seeing sights of another culture, and being reminded of our vast and diverse world."
The choir's program includes a variety of sacred works, spirituals and highly virtuosic secular compositions from the United States, Taiwan, Ireland and South Africa. F.M. Christiansen's arrangement of "Praise to the Lord," a new setting of "Be Still My Soul," and a rousing blues and jazz setting of "Since I Laid My Burden Down" are among the ensemble's repertoire.
---
Northwestern's music department has a tradition of dynamic performances, outstanding faculty and standout educational experiences in an environment committed to glorifying God. Students can audition for one or more of 10 ensembles, having the opportunity to tour around the world and perform in the award-winning Christ Chapel.