NWC Symphonic Band concert centers on creation story
Wednesday, October 23, 2019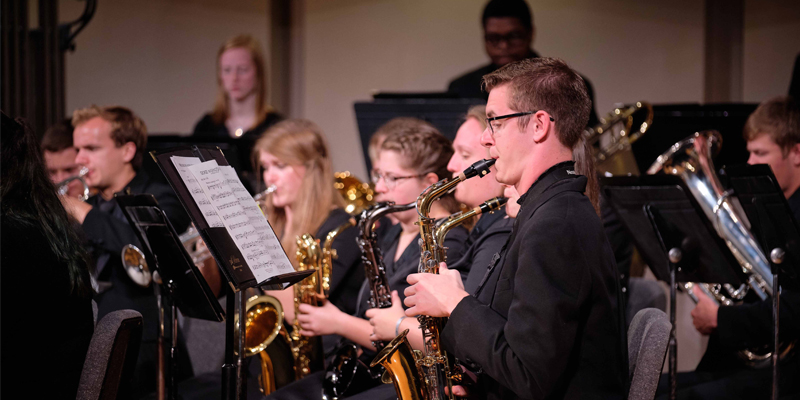 The Northwestern College Symphonic Band will present a concert centered on the creation story in Genesis on Friday, Nov. 8, at 7:30 p.m. in Christ Chapel. "In the Beginning …" is free and open to the public.
The concert will open with "Prelude on an Old English Hymn" based on the tune "All Creatures of Our God and King." "The original texts for this piece and another composition the band will be playing, 'Canticle of the Creatures,' are both taken from poetry written by Saint Francis of Assisi," says Dr. Angela Holt, Northwestern's director of instrumental studies and music education. "The music reflects the words of Assisi in a beautiful way by giving voice to God's creation, as creation declares the mighty power of God."
The ensemble will also perform "Cloudburst" by Eric Whitacre, "George Washington Bridge" by William Schuman and a march by Henry Fillmore, "His Honor." In addition, the Symphonic Band will play Clint Needham's "Chase the Morning Sun" with the composer in attendance. Needham is composer-in-residence and associate professor of music at Baldwin Wallace Conservatory of Music in Ohio. He has received a number of commissions from a wide variety of bands and orchestras, and his music has been described as "wildly entertaining" and "stunning … brilliantly orchestrated" by the New York Times. 
---
Northwestern's music department has a tradition of dynamic performances, outstanding faculty and standout educational experiences in an environment committed to glorifying God. Students can audition for one or more of 10 ensembles, having the opportunity to tour around the world and perform in the award-winning Christ Chapel.