Northwestern music students to present recital
Thursday, October 17, 2019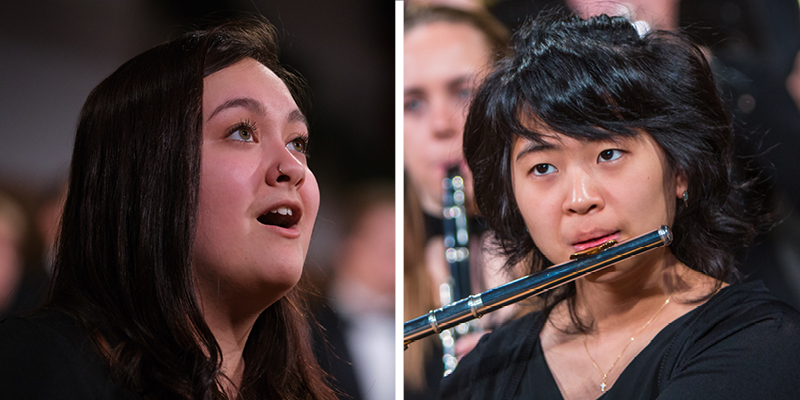 Two Northwestern music students will present a recital on Sunday, Nov. 3, at 3 p.m. in Christ Chapel. Ashlynn Anderson will present a voice recital and Hephzibah Park will perform on flute. The event is free and open to the public.
Anderson and Park will open the recital together by performing a cantata from the baroque period. Cellist Carol Li, a senior nursing major at Northwestern, will perform with the duo.
A junior music education major from Hartford, South Dakota, Anderson will sing several pieces from the classical and romantic eras as well as the 21st century. "Du bist die Ruh" by Franz Schubert, "Youkali Tango Habanera" by Kurt Weill and "Goodnight Moon" by Eric Whitacre are among the soprano's recital repertoire. She will be accompanied by pianist Janelle Phinney. Anderson is a member of Northwestern's A cappella Choir, Heritage Singers and Jazz Band.
Park, a junior music major from Des Plaines, Illinois, will perform classical and new age pieces, including "Flute Concerto No. 1 in G Major" by Wolfgang Amadeus Mozart; "Fantaisie Pastorale Hongroise for Flute and Piano" by Albert Franz Doppler; and Yiruma's "Kiss the Rain" as arranged by Hugh Sung. Park will be accompanied by Dr. Juyeon Kang, professor of music at Northwestern. Park performs with Northwestern's Symphonic Band, Orchestra, Woodwind Ensemble and Women's Choir.