Northwestern to host Raider Nation Celebration Sept. 27-28
Thursday, August 29, 2019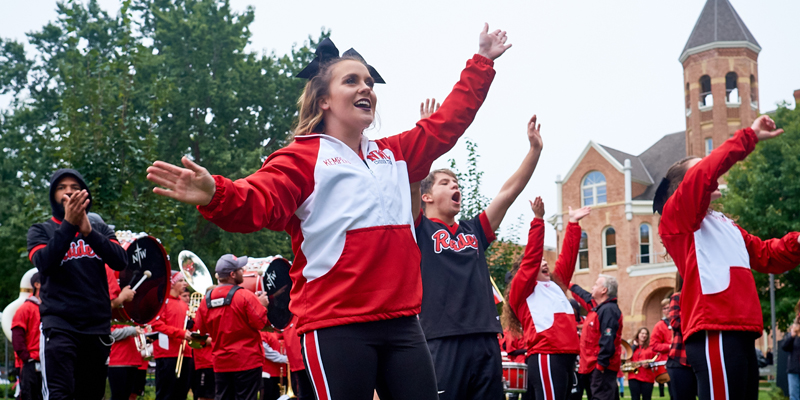 Northwestern College will hold Raider Nation Celebration, the college's annual Homecoming and Parents Weekend, Sept. 27–28, with reunions, banquets and traditions such as the Red Raider Road Race and Morning on the Green carnival, as well as Red Raider athletic events.
At 10:05 Friday morning, Greta Hays will speak in chapel. Hays, a 2011 Northwestern College graduate, serves as the director of communications and public affairs for the Council for Christian Colleges & Universities in Washington, D.C.
Friday evening, Northwestern will host its Legacy Celebration Banquet, an event that recognizes the generosity of donors and the achievements of students. All Northwestern College supporters are invited to attend the banquet, which will include musical entertainment. Complimentary tickets may be reserved by Sept. 20 by emailing events@nwciowa.edu or calling 712-707-7134.
Friday's activities also include Red Raider volleyball at 7:30 and the children's theatre production "Jonah and the Giant Fish" at 7 p.m. Play tickets for either the Friday evening performance or a 4 p.m. Saturday matinee are free for alumni and can be reserved at nwciowa.edu/tickets starting Sept. 18. Day-of-show tickets will also be available at the door.
Saturday's activities include a number of affinity reunions, all scheduled to begin at 9 a.m.:
Past Red Raiders volleyball teams will meet in the Rowenhorst Student Center four-court area.
Alumni of Northwestern's graduate school programs will gather in the Vogel Community Room of the DeWitt Learning Commons.
Northwestern alumni who lived in Fern Smith Hall in the years 1980 through 1985 will also meet in the DeWitt Learning Commons' Vogel Community Room.
Former computing services help desk staff—students and staff—will get together in the computing services area of Van Peursem Hall.
Raider Nation Celebration events open to everyone on Saturday include the annual Red Raider Road Race at 9 a.m. Visit nwciowa.edu/raider-road-race for registration details. Red Raider alumni games will include men's basketball at 9 a.m. in the Bultman Center gym, baseball at the NWC/MOC-Floyd Valley baseball field at 9:30 a.m., softball at the Juffer Athletic Fieldhouse at 10 a.m., and volleyball at the Bultman gym at 11 a.m.
From 10 a.m. to noon, Morning on the Green will take place on the campus green. The kids carnival will include games and prizes; proceeds support student clubs and organizations. Also at 10, members of the reunion classes of 1969 and 1979 can check in at the Ramaker Center and receive a schedule for the day along with a tour of campus.
A tailgate picnic lunch will be served from 11:30 a.m. to 1 p.m. The cost is $7 for adults and $5 for kids ages 6 to 10; children five and under eat free. Space for the reunion classes of '69 and '79 will be reserved under the tailgate tent.
Raider Nation Celebration's Saturday celebration will also include the Hall of Fame Luncheon honoring six former Red Raider athletes and an evening banquet to celebrate the 2019 distinguished alumni: Dr. David and Anita Bomgaars, Orange City; Carolina Endert, Birmingham, Alabama; Dr. JoAnna Jackson Scherer, Arlington, Virginia; and Jack Vander Stoep, Columbus, Ohio.
The Red Raider football team will kick off against the University of Jamestown at 1:30 p.m. Students' parents can get into the game for free with their student's ID. At 5 p.m. the volleyball team will take on the University of Jamestown, while the women's and men's soccer teams will play Doane University at 5 and 7:15 p.m., respectively.
The Northwestern music department will present a free concert at 7 p.m. in Christ Chapel, followed by a reception for the parents of students involved in the college's music programs.
All alumni and friends of Northwestern as well as students' family members are invited to Raider Nation Celebration. For more information, visit nwciowa.edu/homecoming, or contact the Raider Nation Celebration event staff at 712-707-7134 or events@nwciowa.edu.