Holt receives Faculty Excellence in Faith and Learning Award
Saturday, May 11, 2019
Dr. Angela Holt, assistant professor of music and director of instrumental studies and music education at Northwestern College, has been named the 2019 recipient of the college's Faculty Excellence in Faith and Learning Award. She was honored during commencement exercises on May 11.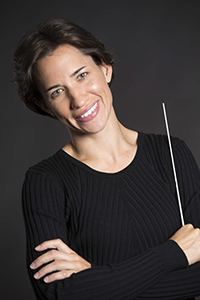 The award seeks to recognize individuals whose scholarly work persuasively connects knowledge gained from their academic discipline and mature biblical and theological understanding through publication, presentations or creative performance. Northwestern's academic deans and vice president for academic affairs selected Holt as the recipient from among faculty nominated by their colleagues.
"[This award] intends to recognize faculty who devote time and energy to scholarship and creative performance in ways that faithfully express the wonder, truth and beauty of God's revelation in both Scripture and creation," wrote Dr. Thomas Holm, chair of the music department, in his nomination. "Dr. Holt thinks, lives and teaches with this expression as a backdrop. This is evident in the language she uses to frame performances for the public, in how she shaped the foundational principles that guided the Symphonic Band's recent overseas tour, and in the care she has shown for our students' holistic development in the context of God's kingdom."
"I don't know that I have ever seen a teacher infuse so much of their faith into an art form."
-Karen Barker, dean of arts and humanities
Karen Barker, dean of arts and humanities, wrote of observing Holt working with students: "I don't know that I have ever seen a teacher infuse so much of their faith into an art form. Every moment in her classroom seems to be a moment to grow—not only musically, but as a human being and as a Christian. I found it extraordinary. Her leadership, her connection to the students, her call for them to be better—it was a treasure to behold."
One of Holt's students said, "She will often take moments out of a band rehearsal to reinforce her desire for our excellence, her belief in us as musicians and as people, and our purpose as a band to worship God through our music. She cares about more than just our excellence as a band, she cares deeply about our band making excellent music for the glory of God, her students finding a desire within themselves to become better musicians and better disciples, and our band serving as a community of friends, believers and worshippers of God."
Holt, who joined Northwestern's faculty in 2017, began her career as an associate director of bands in the Texas public school system before her appointment as director of bands at the College of William and Mary and music director of the University of Cincinnati Symphony Orchestra. She is active nationally as a guest conductor, clinician and adjudicator. She also serves as the assistant conductor for the Northwest Iowa Symphony Orchestra and as the conductor for the Northwest Iowa Symphony Youth Orchestra.
A graduate of the Wheaton College Conservatory of Music, Holt holds master's and doctoral degrees in conducting from the University of Cincinnati College-Conservatory of Music, where she previously was on the faculty and the associate director of bands.