Northwestern College A cappella Choir to present touring concert
Wednesday, March 27, 2019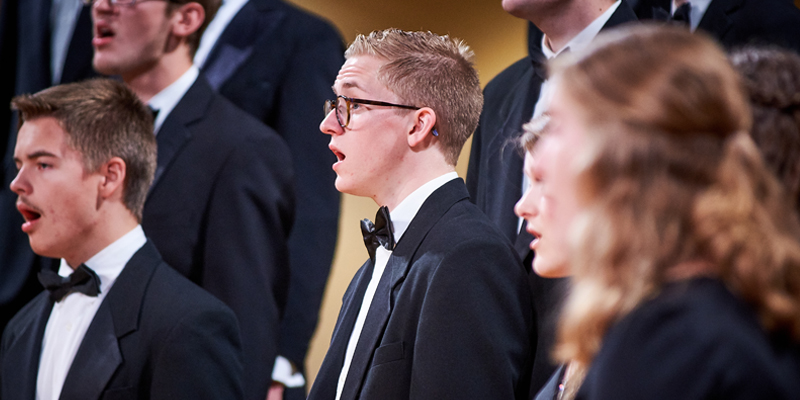 Northwestern College's A cappella Choir will perform its touring concert in Christ Chapel on Friday, April 12, at 7:30 p.m. The event is free and open to the public.
The 75-minute concert will feature the choir's full spring tour program, which includes songs of faith such as "Mary, Did You Know" and a powerful setting of a prayer by Mother Teresa. The program will also include songs that explore some of the more difficult human experiences that call for understanding, support, strength and courage. Several songs will feature solos by choir members, and the concert will close with the choir's traditional "Beautiful Savior."
"This concert program will provide a rich journey for the audience," says Dr. Thomas Holm, professor of music and director of the A cappella Choir. "It includes much variety in style and language while exploring some complex human experiences."
The 45-member choir's spring tour, April 4–7, will cover approximately 500 miles through Iowa. The ensemble will present three concerts, conduct two workshops with high school choirs, and sing during two church services.
Holm joined Northwestern's faculty in 2000 after serving as director of choirs at The King's University College in Edmonton, Alberta, and as chair of the fine arts department and music professor at Prairie Bible College in Three Hills, Alberta, Canada. He earned a doctoral degree from the University of Illinois, master's degrees from the University of Alberta and the University of Idaho, and a bachelor's degree from Big Sky Bible College.