Northwestern College to present Christmas Vespers
Wednesday, November 14, 2018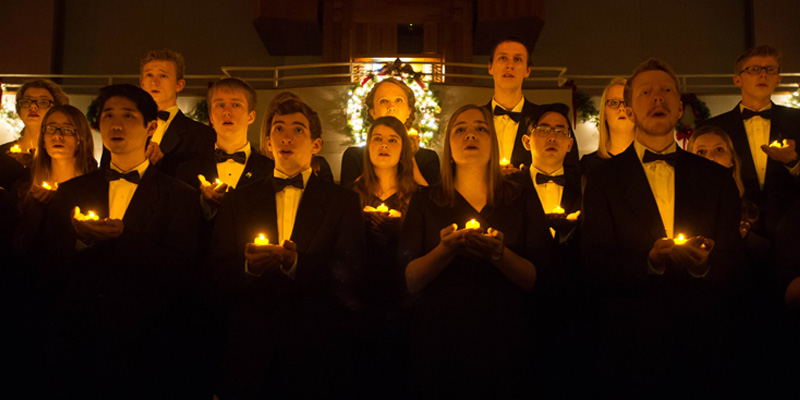 Watch the livestream if you are unable to attend.
The Northwestern College music department will present its annual Christmas Vespers concert on Saturday, Dec. 1, at 7 p.m. and Sunday, Dec. 2, at 3 p.m. in Christ Chapel. The event is free and open to the public.
This year's Vespers is focused on Christ's coming, his challenge to us, and our response. The event will include performances by numerous musical ensembles and soloists as well as the Drama Ministries Ensemble.
Dr. Thomas Holm, chair of Northwestern's music department, says the central inspiration for the program is the Taiwanese Christmas hymn titled "The Hunger Carol." "Its four verses progress from the idea that the baby was born in poverty, knows what it means to have little or nothing, has provided the bread of life that is needed by all humankind, and that, if we simply enjoy the benefits of our own bread and don't care about the needs around us, we are essentially crucifying Christ again on a Christmas tree."
The A cappella Choir, under Holm's direction, will perform that carol in Taiwanese as part of the concert. The ensemble will also sing "I Wonder as I Wander," arranged by John Rutter; "Mary, Did You Know?" arranged by Craig Courtney; "Sweetest Music, Softly Stealing" by Elaine Hagenberg; and "Kyrie" by Ugis Praulins, among several other works.
The event will also include performances by the Brass Ensemble, Women's Choir and Chamber Orchestra.
The Women's Choir's repertoire will include John Englert's "Veni, Veni Emmanuel" and "How Great Our Joy" by Courtney. The Chamber Orchestra will play "Carol of the Bells"/"God Rest Ye Merry Gentlemen," arranged by Matt Riley, and "Fantasia on Greensleeves" by Ralph Vaughan Williams.
The concert will also include organ solos by MaryLou Wielenga, Northwestern's organ instructor, as well as opportunities for the audience to sing carols along with the choirs, orchestra and organ.