Northwestern College Symphonic Band to tour in Spain over spring break
Monday, October 22, 2018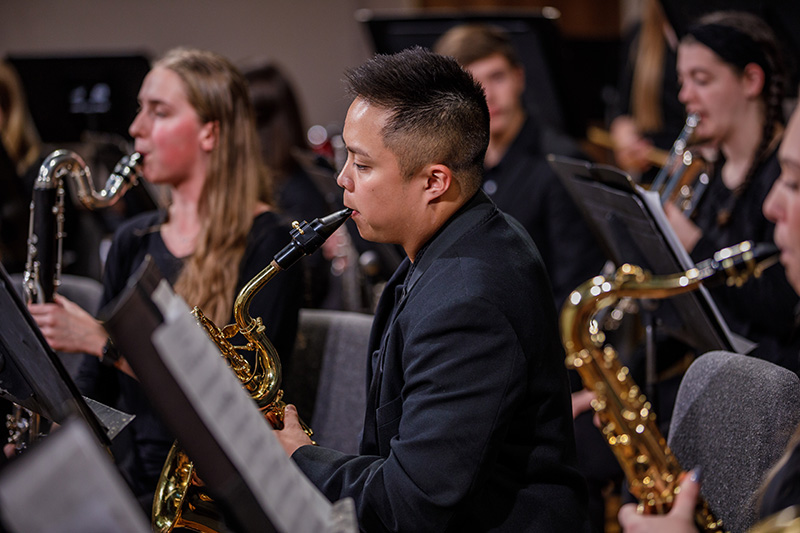 Northwestern College's Symphonic Band is preparing for a spring break mission tour of Spain March 2–11.
The 50-member ensemble will perform at a variety of sites, including churches and concert venues, and assist mission agencies. "We are excited about this upcoming tour and are thankful for the opportunity it will provide students to learn more about new cultures, cultivate friendships, grow in their faith and respond to God's call to serve the world," says Dr. Angela Holt, director of bands and instrumental education.
She says one of the main goals of the tour is to witness to the joy of worshipping Christ by sharing God's gift of music in a country in which only 12 percent of the population regularly attends church. Students will share their testimonies throughout the tour, and the repertoire will include hymn settings by American composer David Holsinger on "Were You There When They Crucified My Lord?" and "It is Well With My Soul."
The band will also perform Spanish music such as a suite from Bizet's "Carmen," which was inspired by the city of Seville, and "El Camino Real," inspired by flamenco dance and guitarists. Also featured in the ensemble's programs will be Celtic music, works by Leonard Bernstein, and the American folk song "Shenandoah."
Holt says one of the reasons she chose Spain for the band's international tour is because several of the musicians speak Spanish, are majors in Spanish or translation/interpretation, or have studied in that country. "It will be exciting for students to apply what they're learning into their experiences on the tour," says Holt, who also speaks Spanish.
In Cáceres, the band hopes to perform a joint concert with the local conservatory and do a service project in collaboration with a Northwestern alumnus who is a missionary with World Team. The band also plans to perform in Madrid, Seville and Toledo.
Holt says the band is preparing by studying the country's culture, hearing from students and missionaries who have spent time in Spain, and learning basic Spanish phrases.
The cost of the trip is about $3,200 per student. Each ensemble member is responsible for paying $1,600 out of pocket. The rest of the funds will come from various fundraising efforts. Donations to support the trip can be made by visiting nwciowa.edu/give2nwc and choosing the designation for "Symphonic Band Mission Tour."
"We're on a journey—even before we leave the States—and it's an opportunity for us to trust God," says Holt. "I look forward to seeing how God will work among and through the band members."